Relax. Unwind. Leave your troubles behind. At the Dermalogica Academy, you can do just that! Under the supervision of a Dermalogica Academy Instructor, skin therapists in training perform skin treatments and waxing services at a fraction of the cost. Hesitant about trusting  an academy? Read Latina On a Mission's newest contributor, Ivette Hoyos' review below. I'm sure it will have you running to schedule your own spa day!
********************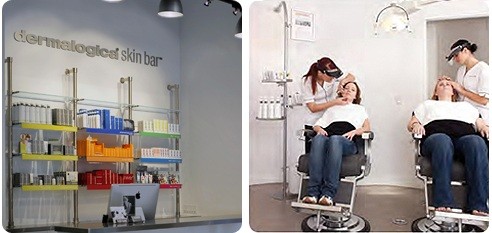 As a Mom, a spa day is not always a priority, or at least not on the same level as diapers and other toddler necessities. I couldn't justify the cost and so my spa days fell to the wayside.  When this assignment fell in my lap, I was excited until I heard it was at an academy.
In my mind, I envisioned a stuffy school but it was anything but! From the moment I arrived at the Dermalogica Academy, I knew I was in for a special treat. The venue was open and chicly modern.
However, it felt a bit too open for me.  I was worried my pampering experience would lose its intimacy while others received similar treatments in the same room. Yet, I was wrong.
 The music set the tone. It played softly in the  background, reminding me of my trip to Aruba, while the lighting illuminated the walkway to my skin therapist in training, Anastasia. She was very pleasant and helped me settle into my session.  After laying down, I was wrapped in a warm blanket and my hair was pulled back and secured away from my face.  Anastasia soon began working her magic on my very neglected face.
She did a great job informing me of each process before commencing. She cleansed the day's make-up away, performed a flash exfoliation, and then applied a SPF 30 primer, but not before my face received a much needed massage. I have to admit, I was in such a state of relaxation all I remember is repeating to myself how truly amazing and so well worth IT this experience was!
I zoned out from the world, while my face had years exfoliated away.  I also feel as if some of my sun spots (or "Pregnancy mask") faded away in those twenty minutes.
As I left, I vowed I would be back in the near future. I highly recommend scheduling an appointment at the Dermalogica Academy. It's a great way to pamper yourself at a small fee, while also helping someone fulfill a dream. A win win for all in my book!
********************
Click HERE to view Dermalogica Academy's Services. To make an appointment at the Dermalogica Academy call 212-243-3000 or complete the Dermalogica Academy contact form.
Interested in becoming a skin therapist? Click here to apply at the Dermalogica Academy.
Disclosure: Ivette, and her mother, received complimentary services at the Dermalogica Academy. This in no way influenced her review. All opinions expressed herein are 100% her own.