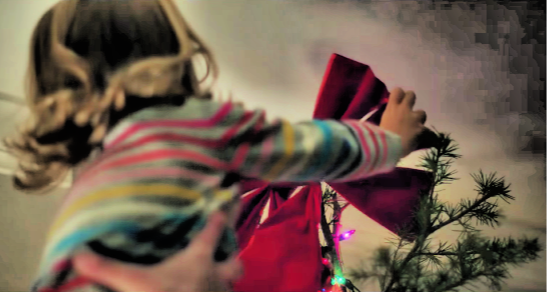 The holidays are a magical time of year.
Santa Claus is comin' to town
Yet, the food, decorations and getting family and friends under one roof, pales in comparison to seeing Christmas presents when you're a child. I still remember waking up on Christmas day to find boxes of all shapes and sizes, wrapped in a variety of colors and topped with bows, lined up under our beds. We didn't have a tree. We couldn't afford one at the time, but my mother always made sure we had a box or three to open. For many children, that's not the case.
You better watch out, you better not cry
Better not pout, I'm telling you why
Santa Claus is comin' to town
For reasons that they may not fully understand Santa Claus passed them by. Did they pout too much? Did Santa think they were more bad than good? Or, horror of horrors, did their names somehow get on the naughty list?
He sees you when you're sleepin'




He knows when you're a wake




He knows if you've been bad or good




So be good for goodness sake
No. They did not pout or cry. Those were not their transgressions.
They were children, behaving as children do. Playful, inquisitive and sometimes driving Mommy and Daddy crazy. Normal. Yet, Santa may not visit them this year because Mommy and Daddy do not have enough after paying for rent, healthcare, and food. They want to give their little ones' gifts, gifts like you and I received, they just don't have any money left over after paying for their necessities.
Oh! You better watch out, you better not cry




Better not pout, I'm telling you why
So, on Christmas day, some children will wake to wonder: Did they cry? Did they pout? Did they watch out?
Now Santa is a busy man, He has no time to play




He's got millions of stockings to fill on Christmas day
And, their stockings may get passed by. They may miss their jubilee. You can change that with Amazon. Donate a toy to a child in need and Amazon will double your contribution throughout the end of the year, matching you toy for toy. Just say: "Alexa, donate to #ToysforTots", and it will be done.
Then kids in Girl and Boy land will have a jubilee
They're gonna build a Toyland all around the Christmas tree
Because of YOU.
---
Watch the video below to learn how to donate toys to children in need with Amazon to double your impact! 
*Your gift is tax-deductible.