Looking for a Latinalicious Family Friendly Giveaway to ENTER? Look no further! We have some of the finest  "Giveaways Around The Blog-O-Sphere"!
Just pull up and chair and start clicking away for your chance to win some amazing products. While you're at it, make sure you enter Ms. Latina's giveaways found on the right hand side.
Suerte/Good luck!
Note: Unless stated otherwise, I do not actively participate in any of the below listed giveaways. Prizes and winners must be on confirmed by going to their respective blogs.
Want to PROMOTE your giveaway? Just enter the Prize/End Date in the Name section, example: Bath & Body Works Giftcard (5/25), and add the DIRECT giveaway url. While you're at it, feel free to grab my button below.
I'll check the entries periodically, deleting any that have expired, are NOT family friendly and/or do not go directly to the giveaway post. Also, don't forget, if you have more than one giveaway make sure you enter each separately!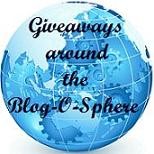 SHOP SNEAKERS
heart Tibi Milo High Top Sneakers

Keds x Rifle Paper Co. Champion Floral Sneake...

Esplar Logo Sneakers by Veja
<
>
SHOP SNEAKERS
Running Sole Sneakers style

SDU B Mesh Rec Sneakers style
<
>