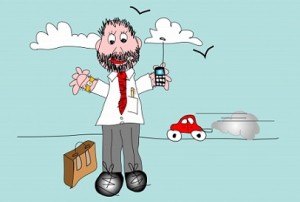 Image: Simon Howden / FreeDigitalPhotos.net
My sons are pretty mature for their age. I don't coddle or baby them, not because I don't want to, but because as a single mother, I don't have the time.  I never realized just how much I treated them like mini adults until recently when I was talking to my youngest.
I can't recall the exact conversation but I can tell you his last statement.
He said:
Mom, you know sometimes  you talk to me like I'm an adult. I don't want you to think I'm not listening or don't want to talk to you but sometimes I just don't understand you.  
I don't think I will ever forget those words.  They were an eye opener.
Have you had moments of clarity with your child(ren)? Please share!
Spanish Version: 
Mis hijos son maduros para su edad. No puedo mimar o ñoñar los, no porque no quiero, pero porque soy una mama soltera y no tengo tiempo. No me había dado de cuenta que los estaba tratando como mini-adultos, hasta recién, cuando estaba hablando con mi hijito.
No me recuerdo las palabras exacta de la conversación pero te puedo decir el ultimo frase que él me dijo.
El dijo:
Mami, tu sabes que a veces tu me hablas como si yo fuera un adulto. Yo no quiero que tú pienses que no te estoy escuchando, o que no quiero hablar contigo, pero yo no te entiendo.
Jamás me voy a olvidar esas palabras. Me abrieron los ojos.
¿Y tú? ¿Has tenido momentos de claridad con tus hijos? ¡Déjanos saber!