Picture the following scenes:
Scene 1
A sabroso/savory meal cooking on the stove, soft music playing in the background, perhaps Luther Vandross singing "Never Too Much",  Teddy Pendergrass crooning "Turn Off the Lights", Maxwell reminding him just how "Fortunate" he is, or a more upbeat Bruno Mars belting out "Just The Way You Are", and you … wearing a perfectly, tantalizing outfit.
The door rings. Your heart skips a beat. It's time.
You grab a wineglass filled with Amitage, a red wine with a subtle spiciness and silky mouthfeel, as you head to the door. You take a deep breath. You're ready.
You swing the door open. His eyes travel over you. His face says it all. You wrap your arms around him and lovingly give him a kiss. He sighs. You giggle, hand him the wineglass, lead him inside and close the door.
Scene 2
As you open your eyes, you stretch, catlike. You lay in bed, listening. The quiet is intoxicating.
You turn slowly, savoring every movement. Your eyes fall on your husband. He looks so serene, so unlike his waking demeanor. He's been having such a hard time at work. They laid off a few of his co-workers and he's been working longer hours. Stress hasn't allowed him to get a fitful night's sleep in a long time. It finally caught up to him last night.
Your eyes travel to the window as a soft breeze stirs the curtains. You have an idea, one you're sure he'll enjoy. It will let him relax, get his mind off the issues at work, while giving you and the children some time with him. You slowly get out of bed, head to the door and close it. You don't want to wake him or the children.
It's early enough that you can prepare a picnic basket. You make turkey empanadas, arepitas de yuca (yucca fritters) and an Edamame and Navy Bean Salad with Orange-Balsamic Dressing. It will go perfectly with a chilled bottle of Moscato, a semi-sweet white wine that compliments salads and saltier/spicier meals. Thankfully, you brought a few bottles since they cost about $12 each.
You can't wait! You know it will be a day to remember.
Scene 3
You're so excited your girlfriends are coming over. It's been so long since you've all gotten together.You have so much to catch up on. You can't wait to tell them all about your trip to Santo Domingo. You met the hottest Snorkeling Instructor. Seriously, the pictures don't do Jose justice. Sighhhhh…
After work, you run to the supermarket to pick up snacks and three bottles of Cabernet Sauvigon. You know you and your friends will enjoy a glass or two as you catch up. Not only do the hints of dark chocolate and spice make this a wonderful wine, but its also very inexpensive at $8 a bottle.
You make it home right before the bell rings. You open the door to shrieks of glee! It's going to be a Latinalicious night, indeed.
 ********************
The above scenes remind me of the movie "French Kiss", when Kevin Cline stated :
"Wine is like people. The wine takes all the influences in life all around it, it absorbs them and it gets its personality."
French Kiss (1995) – Luc (Kevin Kline)   
Just like the scenes above, wines vary. For many, like me, selecting the perfect bottle wine can be confusing.  Which wine should I choose? Red or White? Does it depend on the circumstances, as noted in the scenes above? And most importantly, at least for me, how much should I spend for a quality bottle?
I recently attended a meeting with Juan Muñoz-Oca, the Head Winemaker for Columbia Crest. During our meeting, we discussed the questions above, as well as as the origins of Columbia Crest's reasonably priced wines, their various red and white blends, and Juan Muñoz-Oca's lifelong passion for winemaking.
Below is a short video detailing which wines to choose based on the occasion and foods served. I apologize for the background noise. We were at a very popular New York location.
Mr. Muñoz-Oca also talked about his family and their passion for winemaking.  He came alive when he spoke about his family history. "I've been involved with grapes since I was a little boy – my grandfather was in the industry and his father was in the industry – it's all I've known," he said. They are a family of winemakers, receiving their very first taste (literally) shortly after birth!
Mr. Muñoz-Oca passion for wine is evident in the success he's found as a winemaker. He also stands out because he fuses his Argentine cultura/culture into each bottle. It's noted in the sweetness of the Moscato, the subtle spiciness of the Amitage, and the hints of chocolate and spice of the Cabernet Sauvignon. They are wines of distinction for under $12, that can be used in various scenarios, as shown above.
I raise my glass in a toast to Mr. Muñoz-Oca for pouring his love and passion into each bottle!
¡Salud!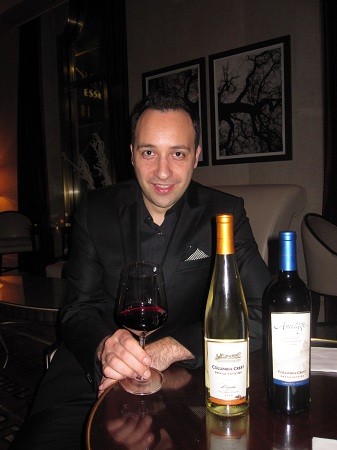 Btw, Wine when taken in moderation is a proven stress reliever, romance builder, and great for the heart. In fact, the American Heart Association has stated that it can produce "small increase in HDL cholesterol". What an incentive to partake in a glass or two a week.
 ********************
Disclosure: I was not compensated for the above review. I did, however, receive wine for review. I used the wine in one of the above scenes. I'll stay mum as to which one!

{ 0 comments }