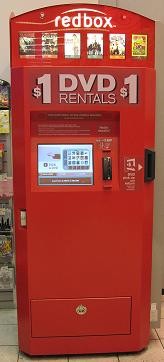 Want to get out of the summer heat? Head on over to Redbox and take advantage of their  June Freebie!  Below are the details, which I copied and pasted from the email I received.
********************
When you rent two or more movies at regular price in a single transaction we'll send you a promo code in three days for a free* rental. Just provide a valid email at checkout and that's it. Please note, only one free rental per person, per day will be awarded.
*To qualify for the free one-night rental, you must provide a valid email address at the time of check-out. To qualify for the offer, two or more DVDs must be rented and actually paid for (e.g., not using a promo code) in the same transaction at a redbox kiosk during the offer period. Transactions performed online at redbox.com DO NOT qualify. Customers with an outstanding balance due to collection issues or having prior history of abuse may not be awarded a free rental.
Only one promo code will be awarded per customer, per day. Ends 11:59 PM CDT June 30, 2010!
********************
Enjoy and don't forget to stash that ca$h!
{ 1 comment }