It's Sabroso Saturday (Translation: Tasty Saturday)! The day when we share recipes that have helped us stretch our budget, our imagination and our taste buds, without sacrificing our health.
********************
As a working woman, my time is precious. Having two growing boys doesn't make it any easier. They eat all the time! Ordering out is easy. Eating unhealthy is easy. Finding the time to cook AND make it healthy can be hard. Many times I felt as if I was always in the kitchen, cooking or cleaning. It was hard. It was a time sapper.
Watching others who seemed to be able to do it, made me realize my mistakes. It wasn't that cooking was hard! It was that I was unprepared! Their suggestions have made my life easier and I hope they make yours easier as well!
Till next week, eat hearty, eat healthy and eat well!
¡Buen provecho!
RICE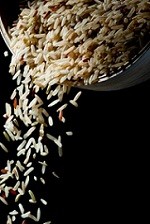 My family eats alot of rice. They would eat it everyday if I let them. Knowing this, I always have it on hand. It makes life easier for me when I'm rushed. That's why I cook it ahead of time and freeze it. Doing this allows me save time during the weekday rush and also helps us eat healthy (I store it in single servings.) The boys can easily take it out of the freezer and pop it in the microwave when needed and I don't worry about how they're eating! Win-win.
Plain Rice:
Cook rice as you normally would.
Wait for rice to cool and separate into single servings.
Place the servings into ziplock freezer bag. I use the small bags and wash them after use (Saves money right?).
To cook, take one ziplock bag of rice from the freezer, remove from bag and place on a microwavable plate. Sprinkle about 1 tablespoon of water over rice. Do not cover.  Microwave for 1 minute (varies per microwave). Fluff with a fork and serve with meat and sides.  
For variety, you can also use the cooked rice to make stir fried rice or vegetable fried rice, which brings me to my second suggestion.
VEGETABLES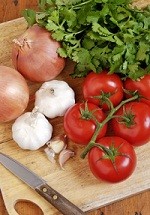 My boys would never eat veggies if I didn't make them easily accesible. Shoot, I'm sure I wouldn't either if I didn't prepare them for easy eating! They're healthy, provide a ton of vitamins and fiber and much healthier than sweets. I also save money by doing it at home myself – two great motivators! 
Cut veggies and fruits to bite size portions for snacks and salads.
For omelets and vegetable fried rice, cut bell peppers, onions, mushrooms and any other veggies you normally enjoy. Pack in ziplock bags. If you will use it within a few days, store in fridge. If not, freeze for future use.
MEATS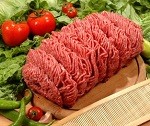 I'm a fan of meal planning. Having a theme makes my life easier and the boys pretty much know what to expect.  One week may be chicken week, another ground turkey, etc. I can cook ahead and also use left overs for the next day's meal.
Example: If  its ground turkey week, I would make the Budget Friendly Meatballs  (double or triple the batch according to your family size). I would use the recipe to make Spaghetti and Meatballs on Mondays, use left overs on Tuesday to make Amarillo Relleno (Stuffed Sweet Plaintain) – smash the meatballs to put inside the amarillos/sweet plaintains, have 2 meatless nights (see below), make Chili on another night and on Sunday enjoy dinner with extended family/friends before heading home to plan next week's meal.
MEATLESS DINNERS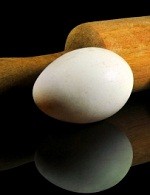 I always have two meatless days in the week, sometimes three, depending on my budget and how I feel. On those days, we may have breakfast for dinner, homemade pizza, fish, or vegetable dishes, like  the Sabroso Saturday: Vegan Stuffed Peppers. Meatless nights give us variety. Since the meals are easier to make, its also a great night for the boys and I to cook together.
Do you meal plan?  Share in a comment below! 
********************
Do you have a Sabroso Saturday recipe you would like to share? It's easy!
If you are a blogger, you can share a sabroso/tasty recipe you have posted this week on your blog by adding a DIRECT link to it below.
If you do not blog but have a Latinalicious recipe that you would like to share, shoot me an e-mail at MsLatina (AT) latinaonamission.com with "Sabroso Saturday" in the Subject line. If I am able to make it at home and my family enjoys it, I will feature it!
Readers can view linked-up recipes by clicking on their names below.
Enjoy & have a healthy Sabroso Saturday!
{ 5 comments }