This is a sponsored post; however, this in no way influenced my go to attitude or my fashion style.
The warmer summer months bring out the wanderer in me. Whether taking a stroll around the city or going upstate to zipline, summer is filled with friends, family and fun. New surroundings, new adventures, and new friends abound and I refuse to let them pass me by!
I'm always on the go. Life is too short to not be. I have no time to worry about my period. Accidents are not allowed. I know there's more to life than keeping leaks at bay. When my period is kept out of sight, the sky's the limit to how I can express, and dress, myself.  Plus, I refuse to dress anything but impeccably.
"Dress shabbily and they remember the dress; dress impeccably and they remember the woman."
Coco Channel
White pants, tight jeans, dresses, and shorts don't need to be set aside. I can continue to do and wear what I want during those days. I'm protected. It's a busy, fashionable world and I don't have time to let anything slow me down… especially my period.
You know the ritual.
Your outfit is laid out: True Religion skinny jeans and a Band of Outsiders Cropped Top. You've plucked, shaved and prepped to hit the town. The day's all planned out when suddenly Aunt Flow makes her descent. You think, "Oh no! There go my plans." and run to the closet to pick another outfit.
STOP!
Style does not have to be tossed out the window. Your life does not have to come to a screeching halt. Always Infinity offers pads and pantiliners with amazing protection. You don't have to worry so much about your period making an unwanted public appearance, so you can feel free to stand out any way you want.
Always Infinity is made with a unique material called Infinicel® that makes it flexibly thin, so it totally forms to your shape. This means that you no longer have to worry about anyone seeing an unsightly bulge. So now, you won't have crazy worries about your pad showing. In fact, you'll hardly know it's there. Even better, it absorbs up to 55% more. Now that's what I call incredible protection!
When your period is kept out of sight, the sky's the limit to how you can dress yourself! So go ahead put on those skinny jeans and skip the "Mi'ja, can you notice my pad?", because the only thing that others will notice is you… strutting with confidence and commanding the room!
Let's talk! Do you change your habits and style when you get your period?
Click to learn more about Always Infinity
Disclosure: This blog post is part of a paid SocialMoms and Always Infinity blogging program. The opinions and ideas expressed here are my own.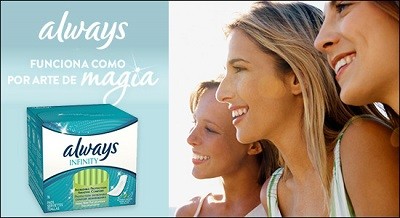 ---
Este es un post patrocinado, pero, esto no influyó mi experiencia o estilo de moda.
Los cálidos meses del verano sacan a la errante que hay en mí. No importa si es para caminar por la ciudad o irme al norte para una aventura en tirolesa, los días de verano están llenos de amigos, familiares y diversión. Nuevos entornos, nuevas aventuras, y nuevos amigos abundan, ¡y me niego a dejarlos pasar!
Siempre estoy en movimiento. La vida es demasiado corta para no estarlo. No tengo tiempo para preocuparme por mi período. Los accidentes son inaceptables. Yo sé que hay más cosas interesantes en la vida que mantener las filtraciones a raya. Cuando mi período se mantiene invisible, el cielo es el límite en cuanto a cómo me puedo expresar y vestir. Además, me niego a vestirme una manera que sea menos que impecable.
"Dress shabbily and they remember the dress; dress impeccably and they remember the woman."
~Coco Channel
Traducción: Vístete pobremente y recordarán el vestido; vístete impecablemente y se acordarán de la mujer.
Pantalones blancos, jeans apretados, vestidos y pantalones cortos no tienen que ser dejados a un lado. Yo puedo seguir haciendo y poniéndome lo que quiero durante esos días. Estoy protegida. Es un mundo atareado y a la moda y yo no tengo tiempo para permitir que nada me detenga… especialmente mi período.
Sabes el ritual.
Tu vestuario está planeado: Jeans True Religion ajustados y una blusa corta de Band of Outsiders . Te sacaste las cejas, te depilaste y te preparaste para salir a la calle. El día está totalmente planeado cuando de repente tu amiga mensual hace su descenso. Entonces piensas, "¡Oh no! Ahí se acabaron mis planes", y de inmediato corres al clóset a elegir otro atuendo.
¡DETENTE!
No tienes que tirar el estilo por la ventana. Tu vida no tiene que convertirse en un grito de desesperación. Always Infinity te ofrece toallas y protectores de panty con una protección increíble. No tienes que preocuparte tanto de que tu período hará una aparición pública no deseada, puedes sentirte libre de sobresalir de cualquier manera que desees.
Always Infinity está hecha con un material único llamado Infinicel® que la hace flexiblemente delgada, lo que permite que sea moldeable a tu figura. Esto significa que ya no tienes que preocuparte de que nadie pueda ver un bulto antiestético. Ahora, no tienes que tener pensamientos locos de que tu toalla se podrá ver. De hecho, practicamente ni te darás cuenta de que está ahí. Mejor aún, absorbe hasta 55% más. ¡Eso es lo que yo llamo una protección increíble!
Cuando tu período se mantiene oculto, el cielo es el límite a la hora de elegir tu vestuario. Así que anímate, ponte esos jeans ajustaditos y olvídate de la odiosa pregunta: "Mi'ja, ¿se me ve la toalla?" porque lo único que los demás van a notar es a ti… caminando con seguridad ¡y tu presencia imponente en el lugar!
¡Vamos a platicar! ¿Cambia sus hábitos y estilo cuando tienes tu menstration?
Haz clic aquí para conocer más sobre Always Infinity.
Aclaración: Este es un post patrocinado, escrito por mi en colaboración con Always y SocialMoms, sin embargo todas las opiniones enunciadas son honestas y personales.
{ 0 comments }