We've partnered with STX Entertainment to provide Latina On a Mission readers with advance movie screening passes to see The Space Between Us.
The Space Between Us, rated PG-13, is a romantic, science fiction adventure starring Asa Butterfield, Britt Robertson, Gary Oldman and Carla Gugino. It will be released to the general public on February 3, 2017; however, 25 Latina On a Mission readers will have the opportunity to see an advance screening on Wednesday, December 7, 2016, at 7:00 p.m. EST.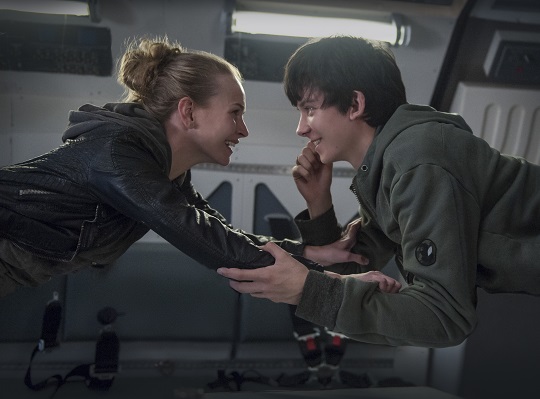 The Space Between Us Synopsis
In this interplanetary adventure, a space shuttle embarks on the first mission to colonize Mars, only to discover after takeoff that one of the astronauts is pregnant. Shortly after landing, she dies from complications while giving birth to the first human born on the red planet – never revealing who the father is. Thus begins the extraordinary life of Gardner Elliot – an inquisitive, highly intelligent boy who reaches the age of 16 having only met 14 people in his very unconventional upbringing. While searching for clues about his father, and the home planet he's never known, Gardner begins an online friendship with a street smart girl in Colorado named Tulsa. When he finally gets a chance to go to Earth, he's eager to experience all of the wonders he could only read about on Mars – from the most simple to the extraordinary. But once his explorations begin, scientists discover that Gardner's organs can't withstand Earth's atmosphere. Eager to find his father, Gardner escapes the team of scientists and joins with Tulsa on a race against time to unravel the mysteries of how he came to be, and where he belongs in the universe.
To claim your free tickets CLICK HERE. Once on the site you can download one of the 25 admit 4 family passes.
NOTE: Tickets are given out on a first come, first serve basis. Tickets do not have a monetary value and cannot be exchanged for goods. Once max number of tickets are reached no more tickets will be made available.
If you attend the screening, make sure to come back here and let us know what you thought. Just don't share any spoilers. Enjoy!
Photo Credit: STX Entertainment