As a young girl, bistec con aceitunas/beefsteak with olives was a special treat! And, no one made it as good as my padrasto/stepfather. It was sabroso to the core! 
As I grew I forgot about this dish until a friend invited us for dinner. What a great surprise it was when she served this dish! My sons had never tasted it and couldn't stop raving. As for me, I felt as if I had been transported to my family's kitchen table. It was that good.
Fast forward several years and it has become a family fave. I will admit we rarely eat red meat so this is a special treat. Also, unlike my padrasto/stepfather, I use Iberia Extra Virgin Olive Oil. It's healthier than the oil he used. Also, it's pressed, meaning no heat or chemicals are used which gives it a more wholesome taste with less acidity.
This Sabroso Saturday / Tasty Saturday dish is a perfect balance of protein and fiber that is super easy to create. Serve it with tostones, a salad, or brown rice. Or, all three! ¡Buen provecho! / Enjoy your meal!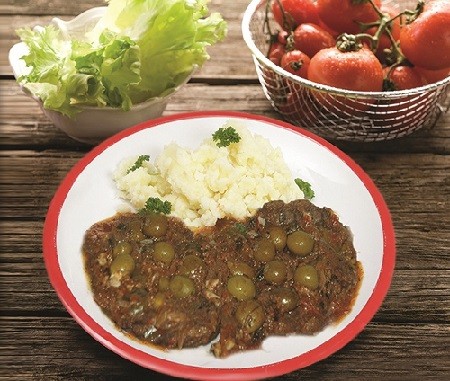 Sabroso Saturday Recipe: Beefsteak with Olives | Bistec con Aceitunas
Ingredients:
2 lbs. ground pork
1 medium diced white onion
½ cup chopped fresh cilantro
1 teaspoon of ground cumin
3 crushed garlic cloves
1 bay leaf
½ cup of Extra Virgin Olive Oil (Highly recommend: Iberia)
1 ½ cups of Manzanilla Olives, Minced Red Pimento and capers (Again, Iberia.)
½ cup of apple cider
Salt and pepper to taste
2 mint leaves for garnish
Preparation:
Sauté the onions, garlic, bay leaf and cilantro for five minutes in Iberia Extra Virgin Olive Oil.
Add the pork and salt/pepper, plus Iberia Manzanilla olives, red pimento & capers then cook for an additional 20 minutes.
Garnish with mint leaves.