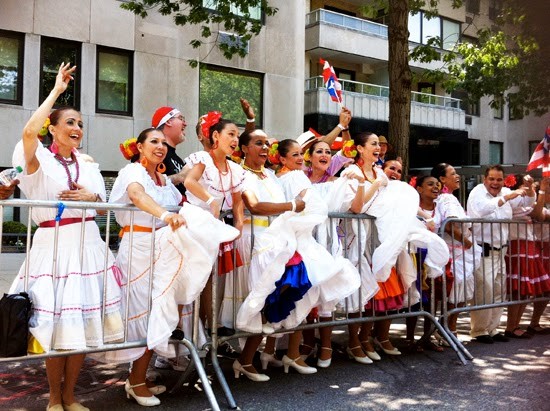 On the second Sunday of this month, June 14th, we celebrate a very special day in New York City. It is Flag Day around the country, but it is Puerto Rican Day in Nueva York. Puerto Ricans will not be celebrating any special holiday; certainly not it's independence, or any battle, famous citizen or leader. No. We are celebrating our flag, which we call "Qué Bonita Bandera", a name given by a plena song composed by Florencio Morales Ramos in 1968. On this day, anyone who hasn't seen the Puerto Rican flag will be sure to see one in New York City when it gets covered by Puerto Rican flags in a monumental parade along 5th avenue from 44th street to 79th street. The Puerto Rican Day Parade' origins date back to the 1950's, when Puerto Rican activists started organizing the community to fight discriminatory practices against Puerto Ricans and other Hispanics in the city. English language television stations since 1991 have broadcast the parade and today it has grown to become the largest demonstration of ethnic pride in the nation, a cultural icon and a part of the cultural fabric of New York City.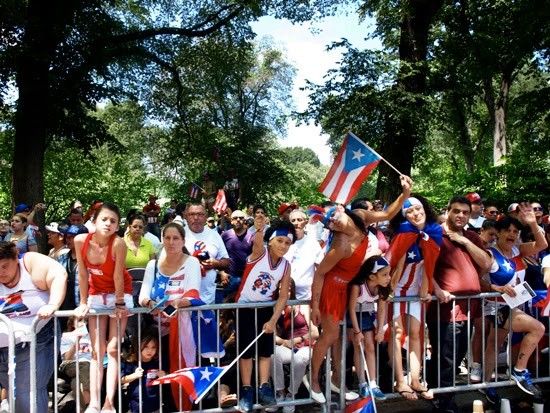 Why is #PRParade important for Boricuas and Latin@s in New York City and beyond? I'll give you 5 reasons:

1- We have powerful numbers: There are nearly 4 million inhabitants of Puerto Rico and over 4 million people of Puerto Rican birth or heritage residing in the United States. Puerto Rican's presence in the US is larger than ever: the second largest Latino group in the U.S. according to the Census Bureau. Together with the strong migratory wave from all Latino countries, Boricuas and Latinos, are changing the face of the USA.
2- We celebrate diversity: Under the theme "One nation, many voices/Un pueblo, muchas voces" we acknowledge the cultural, racial, generational, and lifestyle variants that constitutes Boricuas, and still celebrate on one big event the differences that make us strong.
3- We honor our Afro-Latino Heritage: In sync with the designation of the International Decade for People of African Descent by the United Nations, this is an opportunity for both Boricuas and Latinos, to honor and celebrate the African heritage many times forgotten in our history books.
4- We fight humanitarian, social and environmental injustice: For the second year, PR Parade calls for the release of political prisoner Oscar Lopez Rivera, imprisoned in solitude for 34 years. This year we also support the efforts of the communities surrounding Caño Martín Peña, in the metro area of Puerto Rico, who have suffered the devastating results of environmental pollution throughout the years. Championing these causes will give Puerto Ricans and Latinos the inspiration to continue fighting many other injustices affecting us all.
5- We are stronger together: Boricuas have gone a long way, but there is still so much more to accomplish. We invite our Latino brothers and sisters to take a stand in this city: marching and cheering. Quoting El Diario de Nueva York, on a 1956 piece: "Italians have their parade in March, the Irish in October… It's the New York way. Irish and Italians walked down the same path we walk today. Once they also suffered injustice. Today they run the city."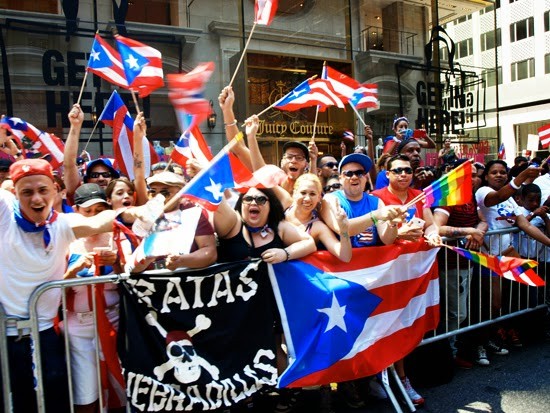 If you are in New York City on June 14th, come join the 58th Annual Puerto Rican Day Parade, from 11:00am along 5th avenue. Follow the virtual parade on Facebook, Twitter and Instagram with the hashtag #PRParade, or watch live on TV starting at 11:00am on Fox5 and at 1:00pm on My9.
Let's chat! Are you attending the parade or have you ever attended? Share your favorite memory in a comment below!