Over the years, I've learned the value of an outfit. A great cut, style and fit will make you stand taller. It may cost more then what you would purchase at Forever 21, but you will wear the piece for much longer.  Also, for the love of all things stylish, resist the urge to shop at Forever 21 if you're no longer in your 20s. Invest in clothing, just as you invest in stocks – think value and appreciation, your appreciation.
These 3 little black dresses (LBD) will stop them in their tracks and make you shine.  They're timeless, stylish and chic. I loved them so much I brought two for myself! Can you guess which ones? Let me know in a comment!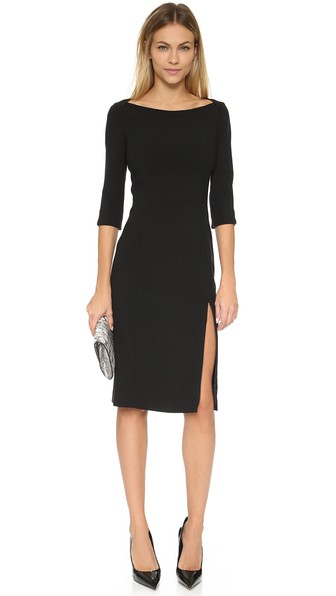 This LBD is a must. It's simple, yet striking, because of one detail: the zippered slit. Keep the slit at a modest level for work, then pull the zipper higher and show a bit more leg for that after-work date.  Better yet, let your date pull the zipper for you. Oh la la.

I absolutely love the cape on this mini dress. It's sophisticated and sexy, while also hiding any flabby underarms! Talk about a win-win!
The embroidery at the top of this LBD adds a pop of color that is quite striking. It's a perfect date night option that will make you feel feminine and flirty!
The Black Halo Haddy Mini Dress comes in size 0-12.
Shopbop is currently having a sale! Shop more and save more. Just make sure you use the code: GOBIG17. Sale ends 3/5/2017 at 4:00AM EST. Happy savings!