As a busy Latina Blogger, founder of the Stiletto Blogger Network and a freelance writer, I need a refuge, a home sanctuary, that is cost-effective and won't break the bank. If you're anything like me, I'm sure you feel the same way. We may not be able to run away from our responsibilities, but we can surely create a sanctuary that makes us feel as if we did with these 10 easy tips.
Lighting: Dim lighting can create a calm mood, while bright lighting can awaken the senses. Choose a lamp or overhead light that has various settings in order to adjust the lighting depending on the environment you'd like to create.
Aroma: Lavender is a calming scent. Try lavender oils or incense to sooth the senses and calm anxiety.
Nostalgia: Remember the "sweet 'ol days" by hanging photos that bring back memories of fun times such as old travel photos or either inspirational quotes.
Wall colors: There's a psychology behind colors so choose your room color carefully. Red has a tendency to raise the room's energy level, while blue is considered to be the most calming color. Educate yourself on color schemes prior to applying colors to your room. Think about the type of energy you want to permeate the room.
Floral Scents: The scent of flowers can have a soothing effect; lavender, rose and jasmine are at the top of the list. If you can't purchase fresh flowers, try flower scented potpourri. To save money on potpourri head to the Dollar Store. Also, most florist will sell you petals in packages, which is much more economical than flowers.
Bring Nature into the Home: Home décor that resembles nature can create a feeling of being free and peaceful in the outdoors. Find pieces that mirror your favorite outdoor setting. For instance, if you like the ocean, pick up a seashell the next time you're at the beach and display it in the home and an accessory.
Calming sounds: Relaxing nature sounds have been captured on CD's for years to help aid sleep. Now you can take the relaxing sound to any room in the home without a CD player. New apps such as Relax Melodies and Relaxing Sounds of Nature Light are great smartphone downloads.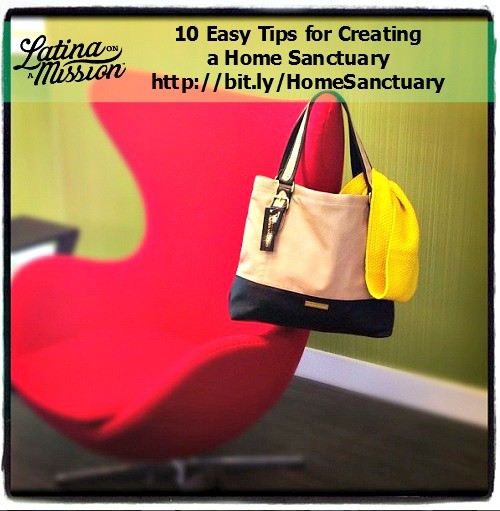 Out with the old: Using slipcovers to easily change the look of sofas and chairs. Pure cotton slip covers from Sure Fit can make your old pieces look like new.
Create cozy spaces: Pile up a few large fluffy pillows in a corner to create a comfortable and relaxing reading area. Specialty pillows  offer a wide assortment of colors, textures and patterns to mix-n-match.
Under the Sea: Keeping an aquarium can have health benefits such as reducing high-blood pressure and insomnia. If you don't have much space in the home or apartment, mini-aquariums are becoming increasingly popular. Suggested fish for a mini-aquarium include Guppa, Zebra Danio and Bloodfin Tetra.
Let's talk! Do you have a special area in your home where you're able to relax? Let us know in a comment!