Disclosure: The author received a product for review. Opinions expressed herein were not influenced by said sample product.
Before moving to Manhattan, I lived in one bedroom apartment in the Bronx. Surprisingly, it was much bigger than my two bedroom Manhattan apartment. It also had a fire escape. Now that I live in a highrise, I don't have one. But I do have fond memories of my older son and I sitting on that fire escape. It was our (semi) private urban "backyard". It had a a garden (container garden), a view and a "backyard fence" to pass the time away with our neighbors – you just couldn't lean over or you would fall 5 stories!
The fire escape was the place to go when my son and I needed a breather. We would blow bubbles, people watch and tell silly jokes. In the winter, we made mini-snowmen and left breadcrumbs for the birds. It was also where I hung clothes to dry, learned about the neighborhood bocinche/gossip, and went to sunbathe. We did everything you would do in a suburban backyard on that fire escape and we didn't need a lawn mower!
My youngest doesn't have these memories. By the time he came along, we were living in Manhattan.  He's always felt left out because of this. So, this year I have a surprise for him. I got him his very own fire escape!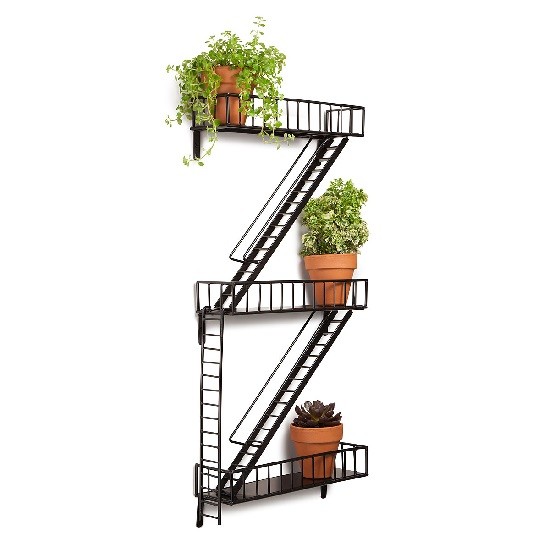 UNCOMMONGOODS OFFERS UNCOMMONLY GREAT GIFTS
When I was approached by UncommonGoods to review a product from their site, I jumped at the chance.  They have so many unique items that I would never be able to find elsewhere! It was really hard to chose just one item. I spent days searching because I couldn't decide. I finally came across the Fire Escape Shelf. I knew this was it. My youngest son would finally get to experience a fire escape. He would love it!
UncommonGoods has a wonderful selection of Stocking Stuffers, Christmas Gifts and Personalized Gifts. The creatively designed, high-quality merchandise is pretty one of a kind. They even offer handmade goods! And, their prices are fairly reasonable.
You can shop by price, recipient, collections or interests. If you're anything like me you will want to peruse the entire site. I think I'm secretly addicted now!
Best of all, at least in my opinion, is how UncommonGoods donates a portion of your order to your choice of non-profit organizations: American Forests, Women for Women International, City Harvest, and the Rape, Abuse & Incest National Network (RAINN) via their Better to Give Program.
Definitely a site to bookmark and fave.
QUALITY OF MERCHANDISE
The item I selected, the Fire Escape Shelf, received 4.5 stars our of 5 in it's reviews. I'm not surprised. It's a great design made from strong, quality material. It's also easy to assemble and appears to be very sturdy.
Note: I have not hung it yet because it is a Dia de los Tres Reyes Magos / Three Kings Day gift to celebrate one of the most important holidays on the Puerto Rican calendar. I'll update with images once the gift is received and set up.

SHIPMENT
Given that I have never ordered from UncommonGoods, I wasn't sure what to expect. I was pleasantly surprised to find that they were very efficient. The item arrived very quickly. It was also packaged in bubble wrap so as not to damage the item in transit.
GIVEAWAY
We're excited to announce that UncommonGoods is sponsoring a Latina On a Mission giveaway. One very lucky reader will win a $100 UncommonGoods gift certificate!
To enter the giveaway use the Rafflecopter giveaway form below.  Giveaway is open to US residents over 18 years of age. Giveaway ends on January 9, 2015 at 11:59pm, EST.
Suerte! / Good luck!