The author received a product sample to facilitate this review. All opinions noted belong to the author.
My immediate family and I (11 total) love spending time together. We love each other so much that we decided to buy a house together in the Poconos! And, we always visit at the same time. Could the Shark Sonic Duo handle our family's mess? We decided to put it to the test, the "Shark Sonic Duo vs. My Family"!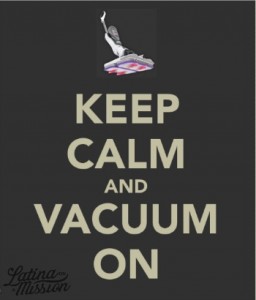 Over the years, I've watched tons of commercials about vacuums that promised you the world. I've often been tempted to purchase one of my own but have to admit I did not completely believe the hype. When I was offered the opportunity to review the Shark Sonic Duo Carpet & Floor Cleaner for Latina On a Mission I immediately thought about OUR house! It was the ultimate test, full of chaos, pet dander, and family mishaps. I gladly accepted knowing darn well my home would put the Shark Sonic Duo vacuum through the wringer.
Our home receives major foot traffic. We have had food and drink spills galore. I'm talking about a tiled kitchen with super high traffic, as well as wall to wall carpeting in several rooms. With kids running around and visitors popping in and out, our floors have seen their share of dirty shoes. We try to get the rug professionally cleaned once or twice a year. Yet, it never seems like enough. Having the Shark Sonic Duo Carpet & Floor Cleaner to help out between professional cleaning would make me ecstatic!
According to the Shark website, the Sonic Duo Carpet & Floor Cleaner uses first-of-its-kind technology to remove four times more stuck-on dirt in carpets than vacuuming alone and deep cleans hard floors better than any mop on the market. In fact, hard floors look and feel cleaner than with Swiffer WetJet, and you can clean with less effort too, as the Sonic Duo glides over hard floors and carpets with just the push of a finger [LOVE!]. The Sonic Duo technology is a unique combination of high-speed scrubbing action at 1,000 times per minute to remove stuck-on dirt and grime, and a custom cleaning solution and pad that results in a deeper clean leaving no sticky residue for a truly clean home.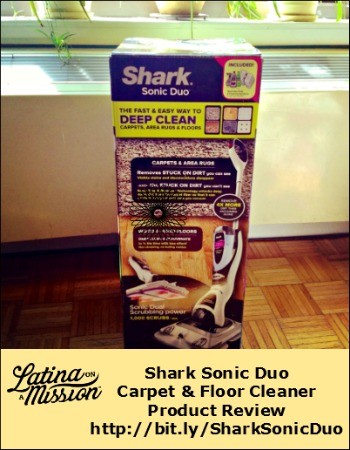 Sonic Duo Carpet & Floor Cleaner
The Sonic Duo Carpet & Floor Cleaner cleans:
√ Carpets   √Area Rugs   √Hard Floors  √ Wood
It removes dirt, dust, grime, allergens and odors. Given that I have a heighten sense of smell, the odor removal is high on my list of must haves!
I'm planning on taking the Sonic Duo Carpet & Floor Cleaner to our home over the holidays. I will be putting the Shark Sonic Duo up against my posse. I'm super excited to see if the duo in Shark Sonic Duo refers to our future partnership against grime!

Let's talk! What is your home's most high traffic area? What kind of floor do you have in that room? Let us know in a comment below.