We, at Latina on a Mission, truly value education; we believe it to be one of the greatest assets available to this growing generation. That is why we make it a point to search and find new and exciting educational opportunities outside of the classroom, because we understand the great need for educated youth.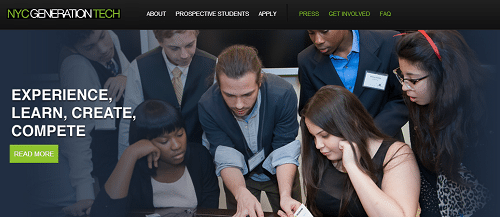 NYC Generation Tech, now in its second year, is looking for 45 NYC  high school students to train and mentor in technology. The program, an eight week intensive will offer real life hands-on experience to its participants.
Having been developed by the Network for Teaching Entrepreneurship and the New York City Economic Development corporation the program culminates in a demo day, where teams will present their own app to a panel of real life, local technology giants for a chance to win $5,000.
The program, while being a great technology learning experience, offers teens a chance to develop necessary life and career skills like networking and collaborative team work.
Although a background in technology is not required, a real interest in the field is. Applications are being accepted for NYC Generation Tech (GenTech) through June 7, 2013.
Hurry! Its an opportunity your junior tech-wiz wouldn't want to miss!
Photo Credit: NYC Generation Tech (GenTech)