At Latina On a Mission, we know the value of an education! It not only opens minds, it opens doors.
In honor of Hispanic Heritage Month, we want to share with you some information about the "Haz la U" Scholarship for Hispanic high school students, in the hopes that it will encourage them on their journey to college.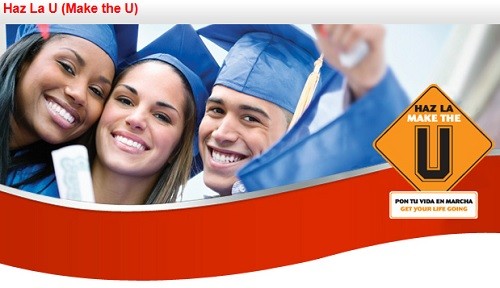 [pinit]
Colgate-Palmolive's scholarship program, "Haz La U" ("Make the U"), provides eligible high school seniors with the opportunity to pursue higher education levels in 2014-2015. Student may apply for one of twenty-one (21) educational grants that will be awarded on a competitive basis for:
a one-time $15,000 scholarship award for the top recipient
a one-time $2,500 scholarship awards for 20 additional recipients
Below I've noted student eligibility requirements for the Colgate-Palmolive's scholarship program, "Haz La U" ("Make the U")
Be of Hispanic American heritage
Be a U.S. Citizen or a legal permanent resident of the United States.  All legal permanent residents must submit a copy of their valid permanent resident card or passport stamped I-551.
Have a minimum cumulative grade point average (GPA) of 3.00 on a 4.00 scale.
Be pursuing or plan to pursue your first undergraduate degree
Have plans to enroll full-time  in a degree seeking program at a two or four year U.S. accredited institution in the U.S., Puerto Rico, U.S. Virgin Islands, or Guam during the 2014-2015 academic year
Must be a first year student at a two year college or a freshman at a four year institution in the 2014-2015 academic year
Must apply for federal financial aid by completing the Free Application for Federal Student Aid (FAFSA)
Click to go to the Colgate-Palmolive's "Haz La U" ("Make the U") Scholarship page.
Applications are being accepted from September 1st, 2013 through January 20th, 2014
Photo Credit: Colgate.com