Last month I received a package, an amazingly beautiful package. I had been anticipating it's arrival since my partnership with Macy's was confirmed. The contents of the package combined three must have outerwear elements: warmth, style and comfort.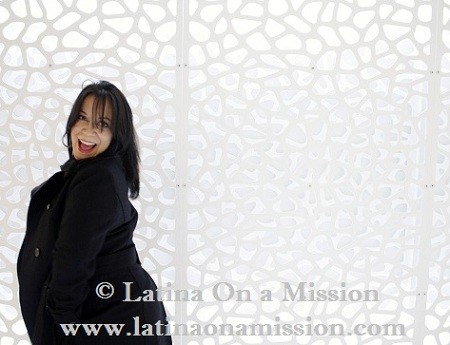 I tore into it, pulled out the coat inside and put it on. At that point, I began to sing…
I feel pretty
Oh, so pretty
I feel pretty and witty and gay
And I pity any girl who isn't me today…
And as I sang…
I feel charming
Oh so charming
It's alarming how charming I feel
And so pretty that I can hardly believe I'm real
I pranced and twirled.
See the pretty girl in the mirror there
Who can that attractive girl be…
Why, it's me! Yes, it's me!
…Such a pretty smile, such a pretty me!
I feel stunning
and entrancing
Feel like running and dancing for joy
For I loved the way my Laundry coat from  Macy's made me feel!
Laundry's color block coat, sold exclusively at Macy's,  accentuates the wearer's waistline, adding definition. The color block pleats in the flared skirt also made me feel very feminine. They added an element that I have not seen in many other trench coats. Unlike most wool blend trench coats, the Laundry coat I selected , has a military inspired styling that is very trendy, yet dainty and ladylike. The coat works well dressed up or down, with dresses or jeans, adding an extra element of pizzazz to any outing. Note, I find Laundry tends to run small so order up, especially if you fall between sizes as I do.
Macy's has a large assortment of coats to fit every style, which I love. I'm sure one will having you singing as loudly as I did!
Let's talk! When looking for outerwear, do you place preference on  warmth, style, and/or comfort?