During the winter, germs multiply at work and home. This means that everyone in our home will get a cold or a sore throat at least once. Since I loathe running to the medicine cabinet for pills and cough syrups, at the first sign of a sniffle, I use a home remedy. It does the trick.  Even my youngest, the grouchiest patient ever, will drink it! And, with four ingredients, our organic home remedy recipe for colds and sore throats is super easy to make  – even when you're the one that's sick with a foggy head cold!
I also make sure to use organic products when preparing the ginger and honey citrus sore throat home treatment remedy. I think it's so important not just for taste but for our health. One brand that I like is Golden Blossom Honey.  It's organic, 100% honey and made in the U.S. Win-win in my eyes!
NOTE: Children under 12 months should NOT drink honey. Honey can contain spores of a bacterium called Clostridium botulinum. This bacterium can cause infant botulism, a rare and potentially fatal illness.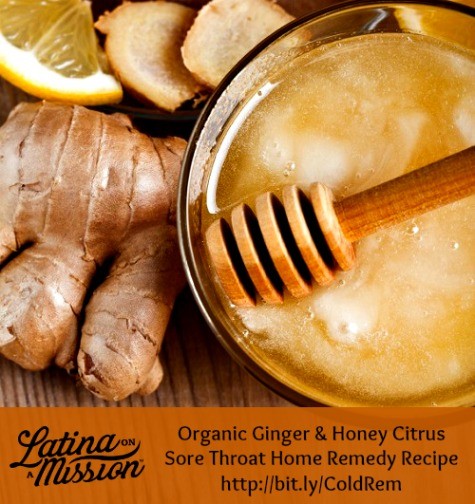 Organic Ginger & Honey Citrus Sore Throat Home Remedy Recipe

Ingredients
4 tablespoons GOLDEN BLOSSOM HONEY
Juice of 1 large lemon
3 teaspoons vegetable oil
1/4 teaspoon ground ginger
Directions
Mix all ingredients together in a small jar. Every hour, take 1 teaspoon in your mouth and gargle, then swallow.
Let's talk! Do you have a sore throat home remedy? Share it in the comments so that we can all benefit!