Novela: Lo Que La Vida Me Robo Character Info is a sponsored post created for the Stiletto Blogger Network and Univision. However, all the joy from watching the novela, and the opinions noted herein, are strictly my own.
While living in Puerto Rico, I recall running home after the school day to watch #MyNovela with my madrasta/stepmother. It bonded us in ways that nothing else could. Hours after the show ended, you could still find us talking about the characters, the plot and the characters' make-up, hair and clothes. They were like family to us, except more glamorous and a tad bit more exciting.

Years have passed since I watched novelas with my madrasta/stepmother. I now live in New York, which often feels so removed from the island. Thankfully, Univision's newest telenovela, Lo Que La Vida Me Robo, provides me with a connection to my past and my lenguaje/language. (Really, novelas are a great way to learn Spanish!)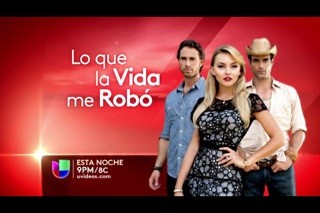 Set in Mexico, the characters on Lo Que La Vida Me Robo battle some of the same issues many of us fight in real life. Manipulative parents, financial issues, know it all friends, dreams delayed, romantic strife and wrong choices are just of a few of the themes you'll find in Univision's latest novela.
Lo Que la Vida Me Robó Novela Characters
Mendoza Montserrat is a beautiful young woman who seeks to please her family. She is willing to sacrifice herself for what she feels will benefit her family. Pushing her own happiness aside, she heeds her meddling and manipulative mother, at a great cost.
Alejandro Almonte is a HOTTIE! But more importantly, he is kind. With an admirable moral compass that is rarely seen in soap operas, I am awed at how loyal he can be to his principals. Take note, Alejandro's kindness is not synonymous with weakness. He shows a strong will when needed.
José Luis Álvarez is a poor man but does not let this define him. He is honest and hardworking – admirable traits that are sometimes overshadowed by his passionate and impulsive nature.
Nadia Medina Arguelles seems like so many of the women that I know. She is smart, works hard and is a good place in her life, work-wise. Her marriage is a another story. She is trapped in a cold, loveless marriage. Sadly, she decides to seek refuge in another man's arms.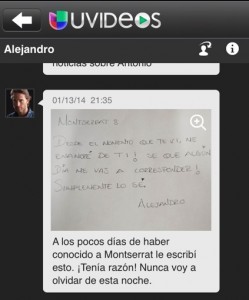 If you're new to the show, don't despair! You can watch past episodes on the Univision's video page. You can also friend one of the four main characters mentioned above with the Univision Uvideos app. I chose Alejandro for various reasons, including the fact that I admired his principals. Since selecting Alejandro, I received several emails from him with information not shared on the show, including two videos, a close up of a note he wrote to Montserrat and more! To the left, I've shared his handwritten note. I thought it was such a romantic gesture!
Giveaway
To get you as excited as I am about Lo Que La Vida Me Robo, Univision wants to offer one Latina On a Mission reader a $50 American Express gift card.
To enter the giveaway use the Rafflecopter giveaway form below. Giveaway ends January 24, 2013 at 12:00 AM (Eastern Time) and is open to US residents over 18 years of age.
NO PURCHASE NECESSARY TO ENTER OR WIN. A PURCHASE DOES NOT IMPROVE YOUR CHANCES OF WINNING. VOID WHERE PROHIBITED BY LAW.
New to Rafflecopter? Watch this 45-second video to learn how to enter!
¡Suerte! / Good luck!