New York City absolutely sizzled a few weeks ago during the Macy's Culinary Council Sizzle Showdown. On June 28, Chefs Johnny Iuzzini and Todd English hosted the Grilling Guru Sizzle Showdown Finale on Broadway. It was an intense battle between six finalists, looking to become the Grilling Guru. Only one would walk away with a whopping $10,000 and a trip to the 2015 Macy's 4th of July Fireworks.
With just an hour to grill their way to the crown, the six finalists created their dishes in almost 90° weather. But they didn't sweat.  Far from it. They were energized. It. Was. Intense. And, they truly brought the heat! Rich, delicious, mouth watering smells permeated the air.
The Six Finalists and Their Recipes
1. Sarah M., Maine – Grilled Chicken Stuffed with Herb Goat Cheese and Prosciutto
2. Sonya G., Minnesota – Pesto Citrus Prosciutto Grilled Shrimp with Mandarin Orange Grilled Red Pepper Fruit Salsa
3. Devon D., New Jersey – Crab Sliders with Firecracker Chow & Avocado Tartar Cream
4. Mary S., Oklahoma – Pork & Beef Braids with Charred Apple-Mango Reduction on Grilled Kale
5. Sherri W., Florida – Grilled Thai Lamb Loin Chops
6. Jack S., California – Steak and Potato Sliders with Basil/Gorgonzola
After the one hour time frame, the judges cast their vote. It was not an easy decision. All the dishes were fabulous in their own right. But one stood out…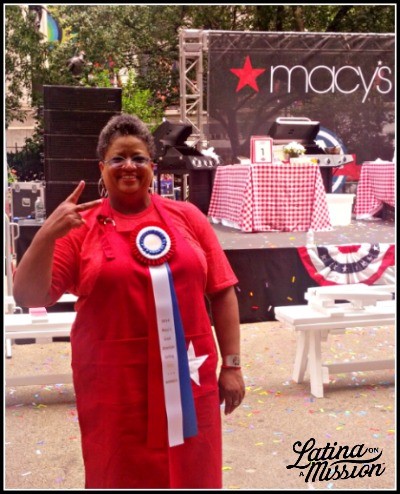 The winner was Sherri Williams with her Grilled Thai Lamb Loin Chops. Congrats Sherri. You truly are a Grilling Guru (and so sweet to boot!)!

We can't wait to hear more about Sherri's journey!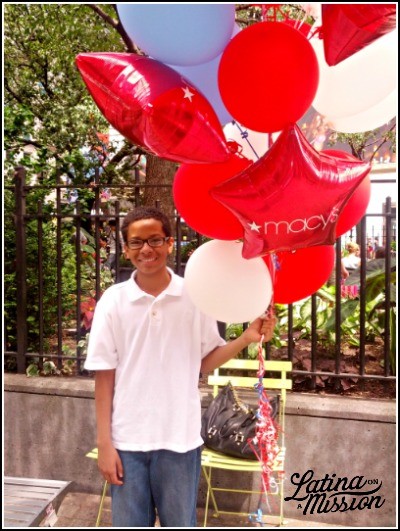 My youngest son, Andrew, at the Macy's NYC Herald Square Sizzle Showdown.
Below you'll find the winning recipe. Feel free to print it out and try it out at home.
¡Buen provecho!
Grilled Thai Lamb Loin Chops
Serving Size: 2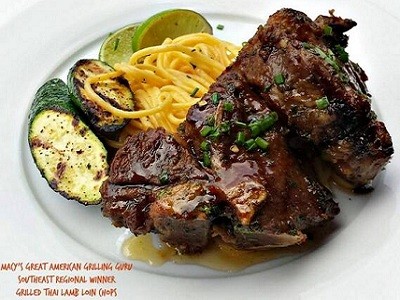 Ingredients
4 – 6 lamb loin chops, 1 1/2 – 2 inch thick
4 baby zucchini, sliced in half
4 oz. Asian egg noodles, cooked according to package
1/4 cup honey
1 1/2 tablespoon fresh chives, chopped
Marinade Ingredients
2 tablespoon soy sauce
2 tablespoon fish sauce
4 tablespoon water
4 tablespoon olive oil
Zest and juice of 1 lime
3 garlic cloves, grated
2 teaspoon galangal, grated
1 1/2 tablespoon brown sugar
1 tablespoon fresh mint, chopped
1 tablespoon Thai basil, chopped
1 tablespoon fresh cilantro, chopped
3 Bird's eye chili, chopped
Instructions
Blend all the marinade ingredients together and marinade lamb chops and baby zucchini slices with 3/4 of the marinade at room temp for 20 minutes.
Grill lamb loin chops on preheated oiled medium-high grill for 4-5 minutes each side or until medium rare. Baste as you go.
Grill baby zucchini for 2 – 3 minutes on each side, or until tender.
Allow lamb to rest for 5 minutes; drizzle with honey and top with chives.
Add remaining marinade to cooked Asian egg noodles. Toss to coat well. Serve lamb loin chops and baby zucchini over seasoned Asian noodles.
Recipe Credit: Sherri W. of Crestview, FL, Macy's Culinary Council Sizzle Showdown 2014 Winner Photo Credit:
@ChefSherrisw
Disclosure: I am a member of the Everywhere Society and Everywhere has provided me with compensation for this post. However, all thoughts and opinions expressed herein are my own.