Will those shoes hurt after I buy them? If you're anything like me this is one of the first questions that pops into your mind when shoe shopping – after "How fab are these shoes?!" of course!
I'll admit it. I'm a shoeaholic. I have more shoes than space but each pair get used and used happily. I refuse to wear a pair of shoes that will cause me more pain than pleasure.
To make sure your shoes won't just look good in the closet, NYC Podiatrist and Ankle Surgeon, Dr. Daniel Drapacz, shares four in-store tips to help you purchase stylish pain free shoes.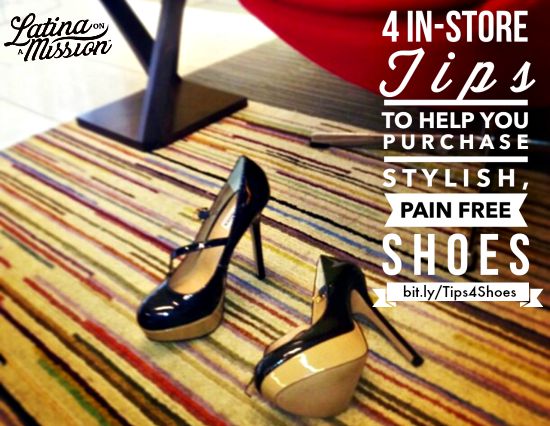 MATERIAL COUNTS
Buy shoes made of real leather or suede! These materials mold to your foot better than synthetic materials and reduce chafing after a few wears.
WIGGLE ROOM
Buy shoes in your correct size! This is super important for happy feet. When picking out shoes, there should be a thumbs width from the front of the inside of your shoe to the end of your longest toe. Having this little bit of wiggle room stops your toes from being jammed into the shoe and causing uncomfortable friction.
TIMING IS EVERYTHING
As the day goes on your feet swell, especially in warmer climates. Shopping at the end of the day when your foot has already expanded, gives you a better idea of how the shoe will fit.
WALK THE WALK
Walk around the store, with both shoes. Don't just stand in one spot. This will allow you to see how the shoes feel. Also, if possible, step off the carpet and onto the tile. Stepping off the carpet will help you notice any pressure that you feel in your feet, which can be a sign of future blisters.