FreshDirect + Foodily Make Meals Pop Right into Your Cart with their newest online recipe tool called PopCart.
Work, school, and everyday responsibilities can sometimes sap our spirit, especially when the to-do list seems longer than the day. Finding a way to take some of that time back so that you stress less, and enjoy more, makes the holidays so much merrier! PopCart does that. It makes meal prepping, and grocery shopping, as easy as 1, 2, 3.
Don't believe me? Let me show you how easy it is!
1. Add PopCart to your toolbar. Click HERE to grab the PopCart "Pop It" Button. Go to any recipe online, highlight the ingredients, and click on the downloaded "Pop It" button found on your Toolbar. I tested it out on my Healthy, Light Arroz con Leche Recipe (Spanish Style Rice Pudding) recipe.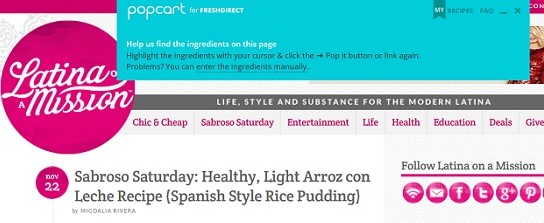 2. PopCart will find the recipe's ingredients on FreshDirect and match them to available items. No need to search and waste time. Btw, you also have the opportunity to substitute ingredients. This is great for those who are allergic to any of the recipe ingredients!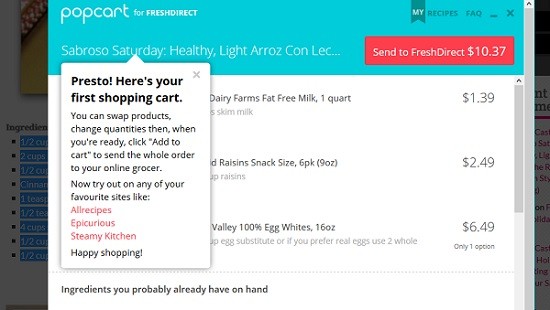 3. After review, you can add the ingredients to your FreshDirect Cart. You can then continue shopping, review related recipes or schedule your delivery.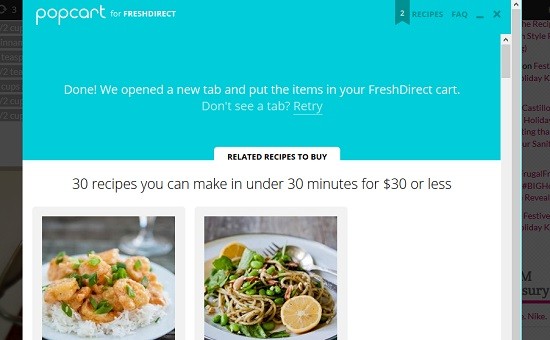 Voilà! Easy peasy ¿verdad? Now go use that time you saved doing something fun!

FreshDirect is an online grocery store.
Disclosure: This is a sponsored post created for FreshDirect + PopCart. As always, all opinions expressed herein are solely those of the author.