Growing up I wasn't much of a mango fan even though my family grew mangoes in their backyard. Now that I'm older, I can't believe I didn't like mangoes! They are chock full of vitamin C, vitamin A, fiber and potassium. They also increase your energy, lower your weight, and best of all, give you healthy complexion and hair!
Yet, as much as I love how wonderful mangoes are for our bodies, I have to admit I didn't start eating them because of those perks. I eat them because they are delicious and cheap, especially when mangoes are in season.
Over the summer I mastered the below Mango-Chicken Quesadillas Recipe I found on the IMUSA website. It's so easy to make, making it perfect for family gathering and entertaining.
I hope you'll enjoy it as much as we have!
Easy Mango-Chicken Quesadillas Recipe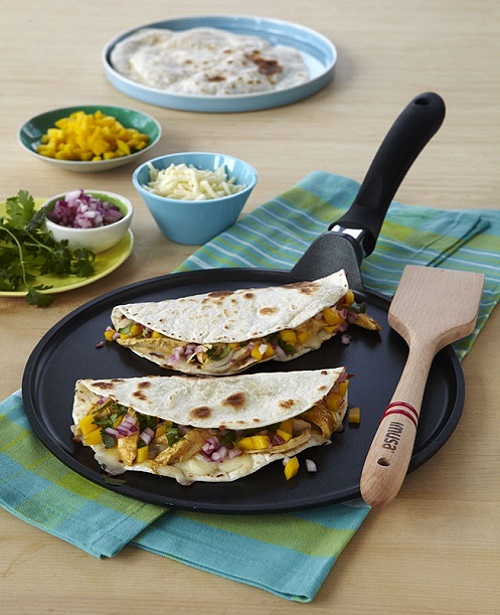 Ingredients
brown mustard, 3 tablespoons
honey, 2 tablespoons
Tabasco or hot sauce, 3 teaspoons
salt, 1 teaspoon
One whole cooked rotisserie chicken
Mozzarella, 1 cup (I use low fat and it tastes just as good!)
Small red onion, 1
Cilantro, 1 bunch
Ripened mango 1
8-10 inch flour tortillas
Non-stick spray (I use olive oil non-stick spray)
Sour cream, optional
Preparation
Combine first four ingredients in a small bowl and mix with shredded chicken.
Heat a large IMUSA sauté pan on medium heat and spray with some non-stick spray.
Add flour tortilla and spray top side with more non-stick spray.
After a minute, flip the tortilla and evenly spread ½ cup of cheese.
Then spread on half of the tortilla some chicken mixture, onions, cilantro, and mango.
Fold over tortilla, like a book, and allow cheese to melt completely. Cut into 4 wedges and serve with sour cream, if desired.
If you make this recipe, please come back and let us know what you thought!
Also, if you enjoyed this Mango-Chicken Quesadillas recipe, we'll appreciate it if you shared it with your family and friends. Thank you!