I love inviting friends over, whether for a birthday party, a gabfest or as my good friend Ivette suggested a Wii Party! Of course, when I do I like to decorate for the event. I found the perfect way, which also happens to be Latinaliciously chic AND cheap!  
I used to buy birthday, holiday and theme  decorations whenever family and friends gathered. Normally I would go to the 99 cents store, which I thought was very frugal of me. Boy was I wrong! If I added up the cost of my annual decorations it came out to more than one hundred dollars a year, which is still very cheap considering today's standards. However,  I knew I could put that hundred dollars to better use!
My cousin, Lourdes, gave me the inspiration. She had one wall in her son's room painted as a  blackboard. The kids used it to draw and write and it kept them entertained for hours! I loved it but did not like the authenticity of the wall- it was black and didn't match my decor. So off I went to Home Depot where I discovered that you can write on ANY wall that uses paint that can be cleaned with soap and water, typically labeled as kid-friendly paint.
I used the Glidden Evermore Interior Latex Enamel Satin on my walls because it was on sale at the time I made my purchase but there are other brands available. Talk to a one of their sales-personnel, since they can show you which brands of paint are washable. Pick the one that best suits your decor and price range. Also note darker colors tend to work best with chalk.
I didn't stop there. I decided if I could write on my walls I should also be able to hang stuff on them without making holes (perfect for rentals)! I was right! I brought some Wall Magnetic Paint  and now I can not only write on my walls but I can also hang pictures, birthday cards, and homemade decorations when my friends and I gather.
FYI: I've done a search and Amazon has the cheapest price for the Wall Magnetic Paint ($22.62- $29.30).
Below is a picture of my living room's magnetic chalk wall: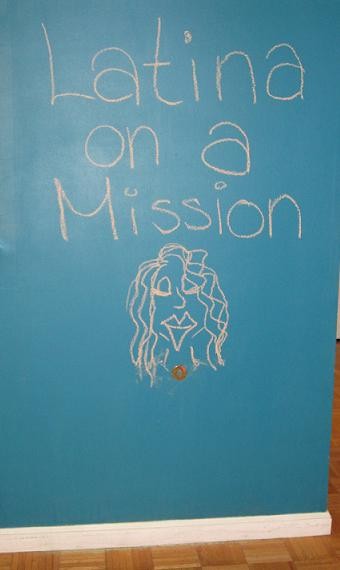 As you can tell I could never make my life as a Graffiti artist but don't you just love the oval necklace I was able to stick to the magnetic wall! Thought it was a nice touch 😉