My youngest son is 13, a teenager going through a growth spurt. He enjoys playing sports, particularly football – the American football, not soccer. It's hard on his body. He's already had a few injuries but that doesn't stop him. No siree bob. He'll get back up and run back out!
He may not know his limits but I do. So, I want to make sure he gets the vitamins and minerals he needs for strong bones and good health.  It's not always easy to get him to eat 3 balanced meals, particularly in the mornings when we're rushing to get out of the house for school. Thankfully, he likes the taste of Nestlé Nido Kinder 1+, which is powdered milk that contains 13 vitamins and minerals.
It's perfect for making smoothies (and hiding veggies!). One of his favorites, and mine, is shown below. Super easy and packed with vitamins and minerals that will keep his body and mind strong and healthy. Hope you like it as well!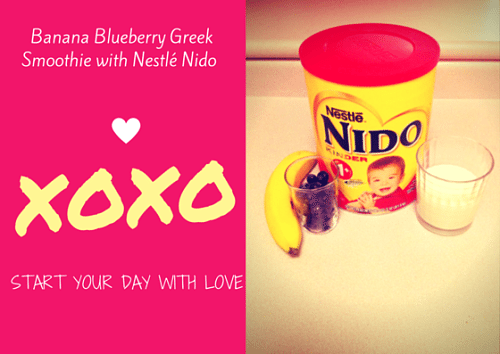 Banana Blueberry Greek Smoothie Recipe with Nestlé Nido 1+
INGREDIENTS:
1 cup of Nestle Nido 1+ prepared according to instructions
1 cup ice cubes
1 ripe banana
1/2 cup of blueberries
6 oz of Greek vanilla yogurt
DIRECTIONS:
Place cup of Nido 1+, ice, banana and blueberries in blender; cover. Blend. Add yogurt. Blend until smooth. Serve immediately.
Makes 2 servings of yummy deliciousness. Enjoy!
Let's talk! What do you normally add in your smoothies? Have you ever tried Nestlé Nido 1+?