With the year coming to a close,  I wanted to share 3 life lessons to take into the new year.  I have to admit this past year has come with quite a few blessing and problems. Sometimes, the problems seemed to outweigh the blessings.
With 4 oral surgeries, my son's school accident – Tween now has a herniated disc that requires ongoing therapy,  a close friend's death, and a family falling out, this past year has been more trying than prior ones. Yet, I constantly reminded myself that "This too shall pass."
And it did.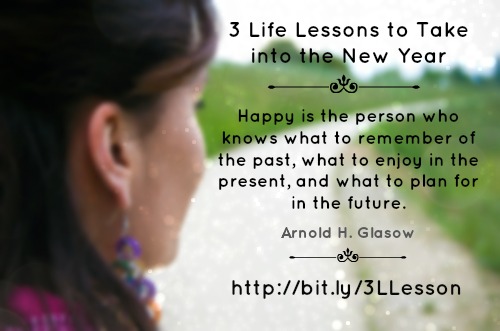 As it was happening I could not see it. In hindsight, I realize each obstacle came with a lesson, 3 very important life lessons that I plan to take into the new year.
Family Drama

A recent family falling out seemed like a bad dream set on replay. Sadly, it's been playing out for most of my life. Time has taught me to  take a step back. Getting sucked into old drama, or new for that matter, has a way of sucking one's energy and creativity. For the sake of my sons, I have learned to let things go. It's taken me many years to realize what is worth letting go and what isn't. Ultimately, the response to two questions provide the answer: Will this drama matter to me 5 days, 5 years or 50 years from now?  If so, can I change the outcome? If I cannot, I have learned to forgive, let go and move on. There are just some things that I will never be able to change no matter how I hard I try.
Lesson Learned: Family drama does not have to be your drama.
Medical/Dental Insurance
I chose to forgo medical and dental insurance for myself and the family because of the costs associated with it. My belief that we are all young and in fairly good health almost ruined us. We've amassed quite a bit of medical and dental bills from a shoddy Dental Assistant's work and my son's accident. Spending over 15K this pass year, has made me realize that we can never know when an accident or an illness will occur. Thankfully, we had the funds to pay for it. Sadly, we now have no emergency savings.
Lesson learned: Health/Dental care coverage is a must.
Life
The death of my close friend, Walter, nearly broke me this year. He was my mentor, my best friend and my "father". He was a huge part of my life. We met a year after I made New York my home. I was 20 years old. He never forgot a birthday, holiday or major life event. He was the voice of reason while I was raising my sons. He was my heart and when he passed, I was inconsolable. Writing this short paragraph has me in tears and because of that I never wrote of his passing. Writing about it would have made it more real than his viewing. I didn't want it to be real. His passing brought me to my knees. Thankfully, God was there to meet me.
During our last conversation he asked me what I was doing with my life. "Working", I responded. He wanted to know if I was having fun, if I was dating. I admitted to him that I was too busy growing my business and raising my sons. Fun, not associated with work, was a rarity, while dating was almost nonexistent. His death changed that. It put life in perspective.
Lesson Learned: Life is short. Enjoy today while planning for tomorrow. 
Join the conversation! What experiences and lessons have you learned this past year? Share them in a comment so that we can all benefit from your wisdom!
{ 5 comments }