Today I buried my Mother. It was an emotional day.
Memories of days gone by, full of bendiciones/blessings, countless hours baking, cooking, laughing in the kitchen, filled my head. I recalled the traditions handed down, the stories of her brothers and sister playing on the farm. Of a grandma who sat in a rocking chair, crocheting sweet clothing to sell. And, an Abuelo who tolled hard harvesting sugar canes. Those stories filled my head. With each word spoken, she shared her life with me.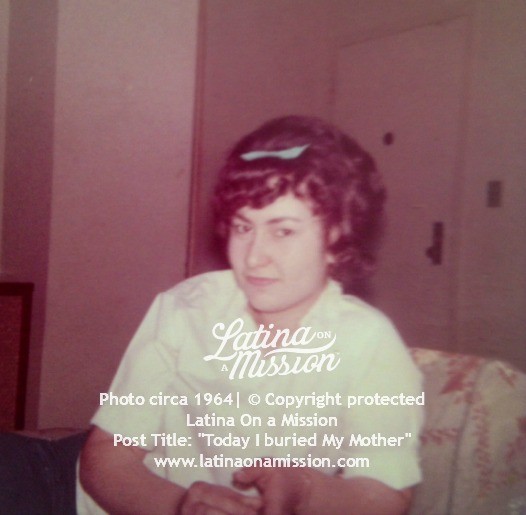 I saw her in my mind. Young. Carefree. Full of love. I also recall the música/music. The old records playing in the background, sometimes scratching…. but always at the best part. "Y mi vida que nada esperaba, también te quería bien"* would play over and over. But, she didn't care. She just added an extra step, or a twirl, as she danced over and set it right.
Today I buried my mother, the dream of what I thought my mother should be. I stared at her in the casket, stroked her fine, thin hair, then stood back as they closed the casket lid. The pallbearers, all decked out in Sunday wear, hefted her up and led me down the lane.
As I turned and walked away, I extended a hand. My Mom stepped into view. History lay before us. Broken. Hurtful. Intense. Full of hidden truths and lies. Would she grab hold? Would she reach for reconciliation and forgiveness? Only time would tell…
To be continued…
This story is based on my life. Sometime last year, at the age of 41, I received a call that shattered my world. My biological father wanted me to take a paternity test. He claimed I was not his child. As you can imagine, it caused an enormous rift between my Mother and I – a chasm opened that seemed impossible to breach and we did not speak for over 8 months.
Since that time, I have spoken to family members, and friends, trying to find out the truth. What I discovered shocked me but has opened the doors of reconciliation.
So, today I buried the mother, the image of who I thought she should be, and learned to love, and admire, the broken woman, the Mom who raised me.
I write these pieces not only to preserve my family's history but to release the enormous block, and the generational curse, it has placed in our life.
Thank you for allowing me to let it out.
*Translation: And my life that didn't expect nothing, also loved you well
{ 14 comments }