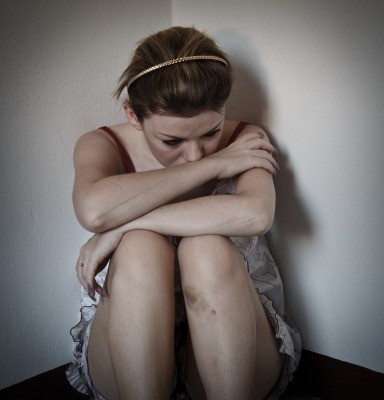 Several years ago, I worked on a day to day basis with victims of Domestic Abuse. I was one of their first contacts after an arrest was made. An arrest that was made possible because of a call. According to Domestic Violence Statistics,
"Around the world, at least 1 in every three women has been beaten, coerced into sex or otherwise abused during her lifetime. Most often, the abuser is a member of her own family."
Nearly 1 in 4 Latinas will experience domestic violence during their lifetime.Worse, Latinas are only half as likely to report abuse to author­ities when compared to other ethnic/racial groups.
Scary, isn't it?
Yet, those numbers don't show the whole picture. Numbers fail to show the damage left to those who suffer from domestic abuse: women, children, families, friends, neighbors, co-workers, employers, and the list goes on and on. It's a cycle that affects everyone, including you and I. Because in reality, if you were to place the women in your life side by side, one or more of them would have experienced domestic abuse at one point in her life.
Still, we are not powerless.
Olga Trujillo, the Director of Programs at Casa de Esperanza, the leading national domestic violence prevention agency focused on Latinas, said it best when she stated,
"We don't have to be trained in domestic violence or sexual assault. We can reach out, love, listen, and change someone's life."
How you ask?
Join the "Regala la Llamada de Esperanza" (Give a Call of Hope) wireless phone donation drive. Make a difference, offer a ray of hope to victims who believe they have none, by donating your no-longer-used wireless phones, batteries and accessories to HopeLine from Verizon. They are an important tool that help victims of abuse feel safer and less isolated. The donated phones will be given to shelters and non-profit organizations that focus on the issue of domestic violence. They, in turn, will give the phones, with free airtime, to victims, all victims, regardless of ethnicity; thereby, giving those who are most vulnerable a way to reach out, to call emergency or support services, employers, family and friends.
Juntas podemos hacer una diferencia! ¡Juntas podemos dar ESPERANZA! / Together we can give HOPE! Together, we can Save a Life, Give a Call of Hope.
---
How to Donate Your Phone(s)
The HopeLine program accepts wireless phones from all manufacturers in any condition. Note, dhones are not tax deductible.
Print the HopeLine postage paid mailing label to mail in your phone in a box or large envelope. It's that easy!
Want to do more?
Share this information with your friends. Help make it easy for others to get involved and donate their old cell phones from the comfort of their home or work.
For more information on Casa de Esperanza, visit www.casadeesperanza.org.
To learn more about HopeLine® from Verizon, visit www.verizonwireless.com/hopeline
{ 2 comments }