This post was sponsored by Big Lots in celebration of its #BIGHoliday campaign for National Decorate Your Home for the Holidays Week. 
Holidays evoke so many feelings. Yet, the one that stands out, for me at least, is love –  for family, friends and our mates. And, what better place to reflect love, than in our homes! Today, I'm happy to share how you can create an elegant and romantic holiday centerpiece. I'm currently using it on my kitchen counter but it can be used in any room! Even better, you can recycle the items used in your centerpiece after the holiday season.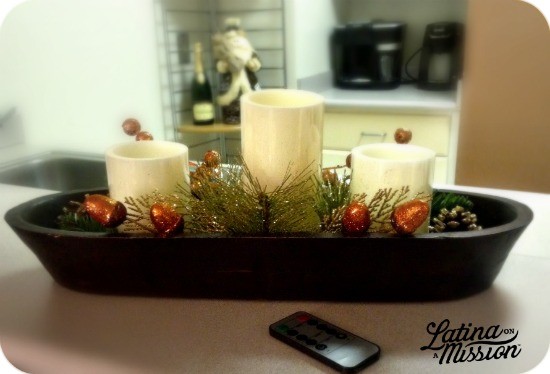 To create an elegant and romantic holiday centerpiece, you will need the following items, all available at Big Lots.
Materials:
Wooden Platter, Napa Collection – $20
3 Pk Flameless LED Candles, Living Colors Candles – $15
Gold Mixed Bowl Filler, Woodland Wonder – $8
Total cost: $43, before taxes
Test candles. Remove the candles from the package, add batteries, and turn on with the remote control.Turn candles off with the remote control before proceeding to the next step.
Place candles inside the wooden bowl.
Open and sort the gold mix bowl filler package.
Place gold mix  in the wooden bowl around the flameless candles, making sure to surround the candles completely. Save the remainder of the mix for another DIY project.
Place the centerpiece on the kitchen counter or wherever you desire!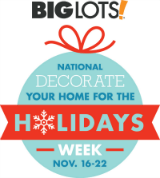 Viola! You have created your very own elegant and romantic holiday centerpiece – perfect for the kitchen counter-top, dining table or anywhere you want to place it!
Let's talk! How are you planning to decorate for the holidays? Do you have a theme? Share in a comment below so we can all get ideas!

Click to follow Latina On a Mission, and 6 other bloggers, on our #BIGHoliday decorating journey!
{ 24 comments }