The author received sample products to facilitate this giveaway. However, this in no way influenced the author's opinions. Her love of Hispanic cuisine, and the products needed to create those scrumptious meals, was established years ago.
Food was a huge part of my life growing up. Although my Mom did not like to cook (and couldn't!), my stepfather did. He was a chef in his younger years and loved to show off his amazing Puerto Rican cuisine at every family gathering. Unfortunately, I didn't get the opportunity to write down his recetas / recipes before he passed away. But, that missed chance has been a blessing! It's opened up the doors to countless other recipes for my boys and I to try.
I'll let you in on a secret of my cultura – the right products are everything! I can't imagine making my rice in just any pot, it has to be a caldero. And, my pollo/chicken just wouldn't taste right without my mix of spices. The texture, the flavor, the aroma wafting in the halls, are what they are because I use the right productos/products. It's not fancy or overpriced. It's just… right.
If, like me, you did not have flavorful Hispanic recipes passed down to you, don't despair! It's easy to throw some zest and sabor/flavor into your meals. To get you started, Latina On a Mission has teamed up with IMUSA and McCormick to giveaway one Cuban package (see items below).  For recipe ideas, check out my Sabroso Saturday recipes!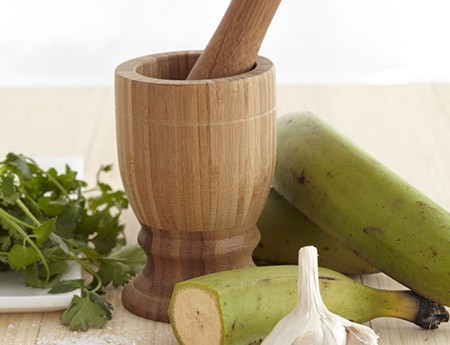 Cuban prize package contains the following:
IMUSA Wood Mortar and Pestle
IMUSA Caldero
IMUSA Tostonera
McCormick Black Pepper,
McCormick Garlic Salt,
McCormick Curry Powder,
McCormick Paprika,
McCormick Cinnamon,
McCormick Oregano (So essential!)
McCormick Black Peppercorn Grinder
McCormick Chicken Bag 'n Season (For those busy nights!)
McCormick Black Beans & Rice Mix
Although Hispanic Heritage month is coming to a close, you can celebrate the cultura/culture year-long by enjoying the food, and community that comes with those meals. And Ladies, remember "El amor entra por la cocina"! Or, in English, "The quickest way to a man's heart is through his stomach".
To enter the giveaway use the Rafflecopter giveaway form below.  Giveaway ends October 31, 2013 at 12:00 AM (Eastern Time) and is open to US residents over 18 years of age.

NO PURCHASE NECESSARY TO ENTER OR WIN. A PURCHASE DOES NOT IMPROVE YOUR CHANCES OF WINNING. VOID WHERE PROHIBITED BY LAW.
New to Rafflecopter? Watch this 45-second video to learn how to enter!
¡Suerte! / Good luck!
{ 49 comments }