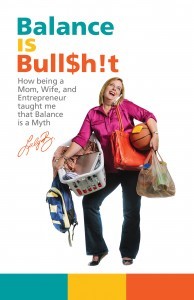 I was so excited to read Balance is Bull$h!t by Luly Balepogi. As a busy working mom and freelancer I was really curious to learn more about the idea of "having it all" and achieving balance in life.
In the book, cubana 'mompreneur' Balepogi shares her experience of leaving the 9-5 working world for the freedom of becoming an independent marketing consultant and business owner. She explains why it is important to have a support system-"an army"- and a spouse who will be your number one cheerleader. She shares why she believes balance is bogus and you might just agree with her.
Balepogi wastes no time and presents the decision that many of us have to make: great job with great pay and no flexibility (read: not family-friendly) versus mediocre job, mediocre pay and plenty of flexibility. I've thought about this. Would I sacrifice family time for more money? Am I willing to put in 12 hour days to make more money? Not really. The extra money wouldn't appeal to me because I know I'd be one miserable, unhappy mom.
The author also does a great job of illustrating what women go through when trying to achieve the elusive equilibrium between career and family. According to Balepogi balance is not possible. If you think about it, she's right. Balance, by definition, is "a condition in which different elements are equal or in the correct proportions." Giving equal share of time, commitment and energy to two things at once: that's just not possible to do as a working mom.  As Balepogi puts it, and as other moms have told me, "something's got to give."
Don't worry – this entrepreneur's message is not all doom and gloom. Balepogi assures readers that we have the right to be happy. She wants us to let go of guilt, stress and self-doubt so that we can have everything we want to have.
Let's talk! Do you think balance is bull$h!t?  How do you manage it all? Chime in below with your comments.
Book Info
Buy Balance is Bull$h!t by Luly Balepogi on Amazon
Learn more about Luly Balepogi on her website: LulyB.com
Inspiring Balance is Bull$h!t Book Quotes
"I focused only on myself, and while that was a hard step, it was one of the best decisions I have ever made in my life."
"I quickly learned the value of being graceful enough to accept the help and not deny others the opportunity to be of service to me."
"You can plan, and you have to, but you have to be ready for the loops; for the lows and highs."
"Priorities may shift every once in a while, but I need to do my very best to make myself a top priority."
{ 2 comments }