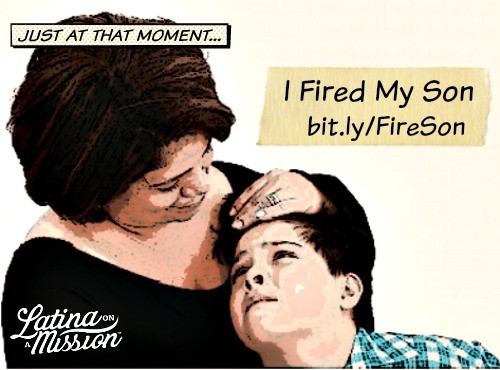 Today I fired my son. I'm not sure how I feel about that. I'm having mixed emotions. The mother in me wishes I could have given him another opportunity; however, the business woman knew there was no other way.
He worked five hours. In those five hours, he worked on my social media editorial calendar, learned how to create memes, researched quotes for an upcoming feature and also answered phones. It. Was. Amazing.
But it only lasted five hours.
He left the office on time. No overtime for him. He watched the clock. At 3pm on the dot, he walked over to my desk, gave me his finished projects and departed.
As I watched him leave, I could not have been prouder. He did all the tasks I gave him. And, he did them well.
So, why you ask? Why this post titled Today I Fired My Son?
Simple.
He rebelled against the status quo. He could not understand that Migdalia at the office is different from Mom at home. There is a difference. One may offer chances, but the other expects her money's worth.
He decided not to come to the office. He slept in. No call. No email. Just didn't show. And that is unacceptable.
Can I blame him?
No, I cannot.
His maturity level is not there yet even if his skills are.
So today I did what I never thought I would do. I handed my son his first and last paycheck and dismissed him. As I watched him walk away,  I knew it was the right thing. For him. For me.
He is only 13, not yet in high school, and childhood goes so fast.
Let's talk! Have you ever paid your children for work (not chores)? How did that turn out? Share in the comments what worked,and what didn't, so we can learn from one another!
Image courtesy of David Castillo Dominici at FreeDigitalPhotos.net
{ 5 comments }