It's Sabroso Saturday (Translation: Tasty Saturday)! The day when we share recipes that have helped us stretch our budget, our imagination and our taste buds, without sacrificing our health.
********************
I had my first taste of shrimp when I was 27. I was on a date and I didn't want to appear uncouth when I was offered a bite.  I closed my eyes, opened my mouth and took a bite. Trying to appear as if I had more culinary experience than I did, I pasted on a smile and chewed.  I needn't have worried, it was sabroso.
Although I can't recall how the restaurant made the shrimp, I can recall the sigh of satisfaction I gave when I finished my bite. I wanted to learn how to make shrimp myself. My taste buds craved more.
Since then I have made countless recipes with shrimp. My boys, thankfully, love it so we tend to have it quite often. I also learned Shrimp etiquette. I did a Google search and found a wonderful site called What's Cooking America
Below I copied and pasted their etiquette tips.
Shrimp Cocktail: If large shrimp are served in a stemmed glass, pick them up with an oyster fork or whatever fork is provided and bite off a mouthful at a time, dipping into the sauce before each bite.
Large Shrimp: If large shrimp are served on a platter with sauce and no fork, pick up with your fingers, dip into sauce and put to your mouth. When eating shrimp with the tail still on, hold the shrimp by the tail and dip it into the sauce once. Eat it in one bite if it is not too large. Otherwise, eat it in two bites. Do not dunk the second bite into the sauce! Then discard the tail as you would olive pits or toothpicks.
Deep-Fried Shrimp: Tail-on deep-fried shrimp is meant to be eaten with the fingers.
Skewered Shrimp: If eating shrimp on a skewer, slide the shrimp off onto a plate (even if it is a paper plate at a cook out). Skewered shrimp should never be eaten like a corn dog.
Oriental Dishes:When eating shrimp with the tail that are part of some oriental dishes or fried foods, remove the tail with a fork and set to the side of your plate or on a separate "discard dish" if one is provided.
Now that I've saved you from being as uncouth as I was, I wanted to share a Shrimp, Asparagus, and Mushroom Stir-Fry recipe that is not only tasty but healthy. It's reprinted with permission from Recipes for the Heart
Till next week, eat hearty, eat healthy and eat well!
¡Buen provecho!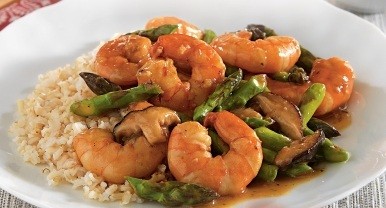 Shrimp, Asparagus, and Mushroom Stir-Fry
Serves 4; 1 1/2 cups shrimp mixture and 1/2 cup rice per serving
1/4 cup fat-free, low-sodium chicken broth
2 tablespoons plain rice vinegar
2 tablespoons soy sauce (lowest sodium available)
1 tablespoon cornstarch
1 teaspoon toasted sesame oil
1/4 teaspoon salt
1/2 cup uncooked instant brown rice
1 1/2 teaspoons canola or corn oil and 1 1/2 teaspoons canola or corn oil, divided use
1 cup shiitake mushrooms, stems discarded, thinly sliced
2 teaspoons grated peeled gingerroot
2 medium garlic cloves, minced
16 ounces asparagus, trimmed, cut on the diagonal into 1-inch slices (about 2 1/2 cups)
1 pound raw medium shrimp, peeled, rinsed, and patted dry
Preparation
In a medium bowl, whisk together the broth, vinegar, soy sauce, cornstarch, sesame oil, and salt. Set aside.
Prepare the rice using the package directions, omitting the salt and margarine.
Meanwhile, in a large nonstick skillet, heat 1 1/2 teaspoons canola oil over high heat, swirling to coat the bottom. Cook the mushrooms, gingerroot, and garlic for 2 minutes, stirring constantly.
Stir in the asparagus. Cook for 2 minutes, stirring constantly. Transfer the mixture to a large bowl. Set aside.
Add the shrimp to the broth mixture, stirring to coat.
In the same skillet, heat the remaining 1 1/2 teaspoons canola oil over high heat, swirling to coat the bottom. Cook the shrimp mixture for 2 minutes, or until the shrimp are pink and just cooked through. Stir in the asparagus mixture. Cook for 1 minute, or until the vegetables are heated through and the sauce is thickened, stirring constantly. Serve over the rice.
Cook's Tip: Stir-frying is a quick and easy technique—just make sure you have all your ingredients prepped before you begin. Once the pot is hot, things move fast!
Nutrients per Serving:
Calories 212 ; Total Fat 6.0 g ; Saturated Fat 0.5 g ; Trans Fat 0.0 g ; Polyunsaturated Fat 2.0 g; Monounsaturated Fat 3.0 g ; Cholesterol 168 mg ; Sodium 544 mg; Carbohydrates 17 g; Fiber 3 g; Sugars 2 g; Protein 23 g
Dietary Exchanges
1/2 starch, 1 vegetable, 3 lean meat
This recipe is reprinted with permission from Recipes for the Heart, Copyright © 2011 by the American Heart Association. Published by Publications International, Ltd. Available on ShopGoRed.com starting mid-February, while supplies last.
********************
Do you have a Sabroso Saturday recipe you would like to share?  It's easy!
If you are a blogger,  you can share a sabroso/tasty recipe you have posted this week on your blog by adding a DIRECT  link to it below.
If you do not blog but have a Latinalicious recipe that you would like to share, shoot me an e-mail at MsLatina (AT) latinaonamission.com with "Sabroso Saturday" in the Subject line. If I am able to make it at home and my family enjoys it, I will feature it!   
Readers can view linked-up recipes by clicking on their names below.
Enjoy & have a healthy Sabroso Saturday!