Most women embrace long, beautiful, voluptuous hair – me included. But there was a time where I wore a pixie style and loved it! It required less maintenance and made me feel carefree.
Although I would love to get rid of my go to monyo/ponytail, I don't see myself chopping it off anytime soon. Yet, these styles have made me think twice about my decision. Because I love the glamour and sophistication of these short hair looks celebrity hairstylist Leonardo Rocco shared with Latina On a Mission.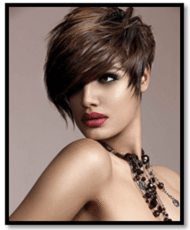 Pixie
Thanks to the courageous celebrities who have experimented with this bold style, the Pixie has become one of the most popular haircuts this summer. The softness of this boyish-feminine look is perfect to highlight a gorgeous face and frame the expressive eyes of Latinas. This versatile haircut compliments most face shapes, and is recommended for those with naturally straight hair.
The good news with the Pixie is that it requires minimum maintenance. Wash your hair regularly and before blow drying it, add a few pumps of the NEW Suave Professionals® Moroccan Infusion Styling Oil for lightweight, long lasting, silky shine and you're good to go!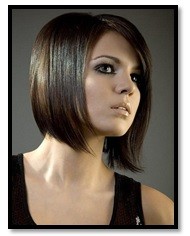 Bob
I have to admit I've shied away from the Bob because it's the style my mother has. However, coloring gives this bob a trendy, sophisticated look. The style originated during World War I, when women in the workforce didn't have time for pin curls and straightening irons. It later became a badge of freedom, rebellion, and independence for working women.
The Bob is a perfect option for those with thin or medium hair since it adds volume. If you have a round face, Leonardo Rocco recommends to cut the bob to a longer length, rather than chin-length. To keep this look properly styled, always blow-dry it straight or flat iron it, but remember to shield the hair from the heat with products that contain a thermal defense serum, like the Suave Professionals® Heat Protection Spray.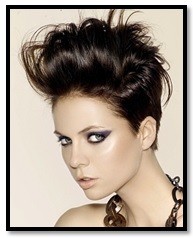 Pompadour
The Pompadour or "faux hawk" is the most modern of the three styles shown. It's not for the faint at heart that's for sure! This style is modern and edgy. This trendy hairstyle, which usually entails shaved sides, has become a favorite among rockers and pop stars for its rebellious nature – – think Miley Cyrus. The "faux hawk" combines the 1950s pompadour hairstyle, the 50s flattop, and sometimes a mohawk.
Like the Pixie, this style requires minimum maintenance and can be quickly styled by rubbing a little bit of the Suave Professionals® Sleek Anti-Frizz Cream on the top strip to control the frizz, while leaving hair smooth and manageable.
Let's talk! Do you have long or short hair? If you have long hair, would you consider cutting it? Or, like Samson, do you see long hair as your source of power? Let us know in a comment!