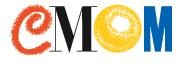 With the weather getting warmer, there is no longer a need to stay cooped up in your homes, especially in cities when you should be able to find a slew of inexpensive or free events to great outings for yourself or for you and the family.
This weekend, Saturday, March 20th, 2010,  the Children's Museum of Manhattan, located at 212 West 83rd Street, is FREE all day from 10am to 5pm. For those families with babies or toddlers, space is provided to hold strollers; however, please be aware that it's limited. If you can travel without a stroller, I suggest you do so.
They also have a few Spanish events that were worth mentioning like a Bilingual Sing-along and a Baby Loves Salsa class! Can you imagine? You may be inspiring the future J-Lo or Mark Anthony!  
For a complete list of activities, click HERE .
Enjoy and don't forget to stash that ca$h!