I remember the day as if it was yesterday…
Coffee can be heard percolating while my sons slowly wake. The delicious, sweet smells draw them out of bed. I hear the pitter patter of their feet. Their faces, still filled with slumber, light up as they see the kitchen table. Colored Easter eggs, bite sized slices of fruits and Chocolate French Toast are set out for them. Instinctively, they lick their lips. Chocolate French Toast is their favorite. I don't make it often which makes it an extra special treat. I watch from the kitchen, holding my fresh brewed cafecito, as they look at one another and smile before racing to their seats. I hear the clatter of their plates as they serve themselves, followed by silence as they gave thanks for their meal. I. Did. Good.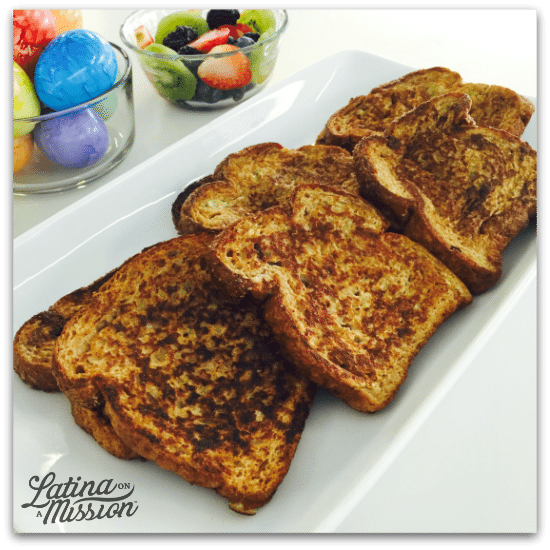 As a sponsored Nestlé El Mejor Nido member, I'm excited to share my sons' favorite breakfast meal. I first created my easy Chocolate French Toast recipe while experimenting in the kitchen. I'll admit the idea to add Nesquik was inspired by a chocolate craving. It paid off. The boys loved it! And, I found a great way to feed my monthly chocolate fix.
Now, I make it to mark special occasions, like birthdays and holidays. It can be made quickly and sets us up for a fantastic day. Thank you Nestlé El Mejor Nido for providing product and incentives to showcase this delicious and filling receta/recipe!
I'm also excited to announce that Nestlé El Mejor Nido is sponsoring a $50 gift card giveaway. Scroll down to enter for a chance to win.
EASY CHOCOLATE FRENCH TOAST RECIPE
Makes 4 servings (2 slices each)
Ingredients:
8 slices of whole wheat
4 eggs
½ cup low fat milk
2 tbsp Nestlé® Nesquik® Chocolate
1 tsp vanilla
Cooking spray
Directions:
In a bowl, add milk, Nestlé® Nesquik® chocolate, vanilla and eggs. Beat until well blended.
Spray cooking spray onto a skillet. Heat skillet over a medium flame.
Place bread slices, one at a time, into the chocolate milk/egg mixture. Soak well. Shake off excess and place soaked Chocolate French Toast onto the heated skillet.
Fry the Chocolate French Toast until golden brown, then flip to the other side. When both sides of the Chocolate French Toast are golden brown, remove from the skillet. Place on a plate.
Repeat steps 4 and 5 until all slices are cooked.
Serve hot with maple syrup, berries and/or bananas.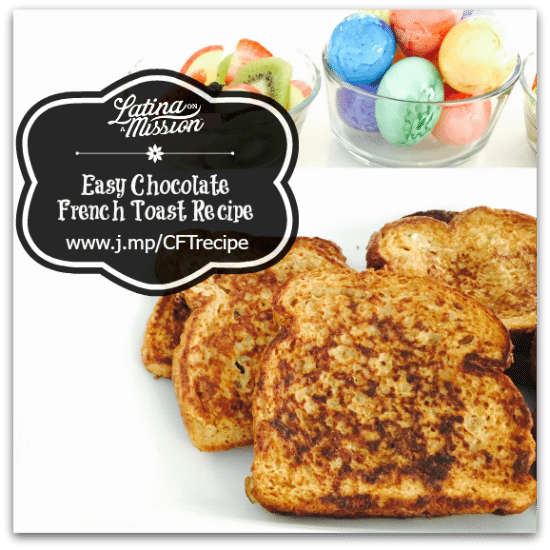 EASY CHOCOLATE FRENCH TOAST RECIPE GIVEAWAY
To help you make this recipe, Nestlé is sponsoring a Latina On a Mission giveaway. One very lucky reader will win a $50 gift card that they can use to purchase the Chocolate French Toast recipe ingredients or any of the other recipes found on their website, ElMejorNido.com.
To enter the giveaway use the Rafflecopter giveaway form below.  Giveaway is open to US residents over 18 years of age only. Giveaway ends on April 9, 2015 at 11:59pm, EST.
Suerte! / Good luck!
Visit ElMejorNido.com for additional recipes and product information. And, don't forget to follow them on Facebook, and Pinterest.