My oldest son is 20 years old. And, like most young men, he would much rather grow a beard than shave. One day I asked him,  "Why Don't Men Like To Shave?" His response was eye opening and one of the reasons I decided to work with MomTrends on this post.
I thought it was because it was the latest trend. He's a hipster. Yet, that wasn't the reason. It was much simpler than that.
In fact, it may be the very same reason, why the man in your life doesn't shave as often as you would like.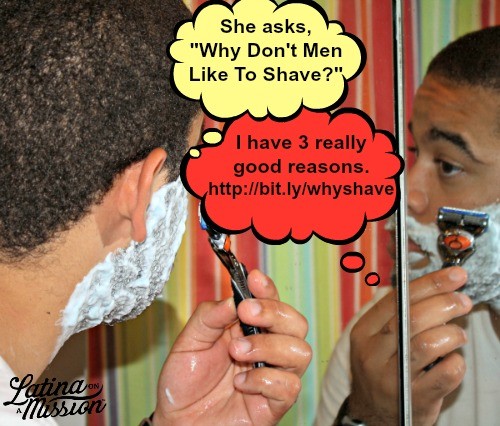 Reason #1: It Hurts.
Shaving hurts men as much as waxing hurts women.
If the man in your life complains that shaving hurts, believe him. As my son noted, shaving feels as if you're pulling each hair out one at a time. Even worse, is the realization that the first swipe didn't remove all the hair and he must do it all over again. Ouch!
Reason #2: Ingrown Hairs.
Ingrown hairs are the bane of sensitive skin.
Not only can they create scars, they also itch. And, if the man in your life succumbs to scratching those ingrown hairs, they can cause scars….on his face. The first place people see when they first meet him.
Reason #3: It's Time Consuming.
This response goes hand in hand with Reason #1. Making sure he doesn't leave any patches, or stray hairs, takes time, which is hardly conducive to a busy college student's lifestyle. Plus, it means he won't get that extra 15 minutes in bed. Not. Worth. It.
After talking to my son, I realized it wasn't shaving that he disliked. It was the razor he was using. The dull blade scraped his skin, causing the pain and ingrown hairs. It also meant that he received more nicks and  than he should have. By using a new blade, and changing it often, he would be able to get a cleaner shave in less time than it took him before.
Again, it came down to time. He didn't have the time, or the inclination, to drive to the nearest drugstore to buy new blades. It felt like more of a hassle to him. And, to be perfectly honest, I agreed. As someone who rather shop online, to avoid the store lines, I could see his point. He needed something easier. He needed a razor blade subscription.
The Gillette razor blade subscription was perfect! And, after the Gillette Fusion ProGlide with FlexBall Technology, he was ready to give up on his old razor that wasn't working. The Fusion ProGlide gave him an entirely new shaving experience. Bonus points – it glided on the contours of his face for fewer missed hairs.
Gillette's blade refill subscription service was a practical, hassle-free option. It delivers Gillette's blades directly to his door, meaning one less thing for him to think about. It also made sure Reasons 1 through 3, were no longer a hindrance to a clean shave. He now has no excuse to look scraggly. And, Gillette's blades are affordable – perfect for a college student on a budget at about $1 a week!
He has enough to think about with his college course load, internship and grant work. Shaving, and buying razors, should not be one of them.
Let's talk! Does the man (or son) in your life enjoy shaving?  Or, does he have the same 3 reasons listed above for not shaving?