Homemade plantable seed paper is a simple DIY project that can be done at home in a very short time. It can be used in a variety of ways. Given that I enjoy hosting parties and gathering, I use homemade plantable seed paper as memorable party favors and gift tags!
What I love most about homemade plantable seed paper is that you recycle paper items that normally go to waste, like toilet paper rolls, while also providing a beautiful keepsake that will grow and provide beauty and nourishment for years to come!
The below DIY Tutorial: Homemade Plantable Seed Paper video and instructions will help you create your plantable seed paper. I've also included a few tips at the end of the post that you won't want to miss!
What do you think? Is this something you would create at home?  Let us know in a comment!
Also, feel free to check out my other DIY projects.
DIY Tutorial: Party Poppers, Pillow Boxes + More! (VIDEO)
Latina on a Mission + Charmin – Homemade Seed Paper from SAY: Content on Vimeo.
DIY Tutorial: Homemade Plantable Seed Paper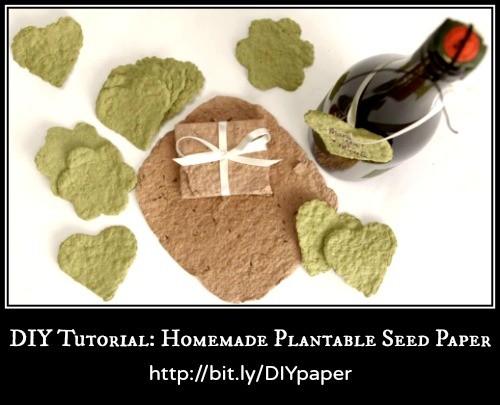 What you'll need:
Cardboard toilet paper rolls
Seeds
Food processor
Hot water
Parchment paper or plastic wrap
Cookie cutters in a variety of shapes
Hairdryer
Food dye (optional)
Tissue paper, preferably without dye (optional)
Ribbons
Instructions:
Cut toilet paper rolls into small pieces and shred tissue paper.
Add shredded tissue paper and toilet roll pieces to a bowl and pour boiling water into bowl, covering paper.
Add soaked shredded paper, with enough water to cover the paper, into a food processor or hand blender. At this point, you can also add food coloring, if desired. Blend until all lumps are removed – it should look like a mushy pulp.
Spoon pulp back into bowl. With hands, add seeds to pulp, stirring gently to combine. Note: Do not blend seeds. In order to avoid damaging the seeds, this step must be done by hand.
Lay parchment paper, or plastic wrap, onto a flat surface and place cookie cutters on top of covered surface.  Squeeze pulp gently to remove some water, leaving it moist enough to form shape. With hands, add a small amount of pulp into cookie cutters.  Press gently into cookie cutter shape. This will also remove excess water. (Note: you can also spoon pulp directly onto surface and use a rolling pin to flatten pulp into sheets.)
Remove cookie cutter (if applicable) and blot seed paper / shapes with a towel to remove any excess liquid. At this point, if desired, rubber stamps can be used to embed a design into the paper.
On a cool setting, blow dry the shapes / paper with a hair dryer.  Make sure to use a low setting. You don't want to blow the seeds out! (This step is important, because you don't want the seeds to begin germination before they are planted.)
Remove paper from parchment paper. Place same in a dry area, away from the sun. Let the paper sit until completely dry.
Once dry, decorate however you'd like. Use a hole punch and ribbon, pens, or whatever you'd like!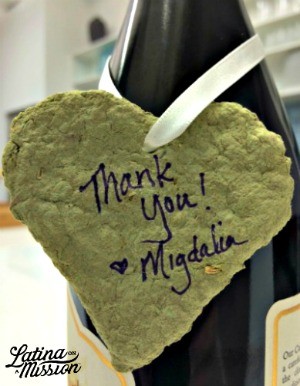 Tips:
Use food dye to change the color of the paper.
Before the paper dries, embed a design in your homemade plantable seed paper with a rubber stamp. Or, use a child's toy, like a toy truck – just press and roll the tires right over it!
When gifting, make sure to note the type of seeds used, and provide planting instructions. You want to make sure they grow and provide years of beauty or nourishment!
Brought to you by Charmin Ultra Soft. We all go. Why not enjoy the go?
Disclosure: Latina On a Mission is working on a sponsored Charmin campaign to develop a fresh, innovative video series. All opinions expressed herein are those of the Author.