I love to entertain! Bringing together family and friends gives me the warm fuzzies; yet, the high cost of entertaining used to do the exact opposite. Nowadays, it's a different matter. I've learned frugal tips to make a gathering sparkle, without breaking the bank. And, today I'm excited to bring you these sponsored suggestions!
A good friend once told me to stand out it's all in the details. She was correct. Just as you would add accessories to jazz up an outfit, adding an extra touch, something unexpected to a gathering, will make it sparkle.  It doesn't need to be expensive, but it does need to be geared specifically to your gatherings party goers.
No one knows your friends or family better than you. In fact, that connection you have is one of the reasons why they want to attend your gathering!  Even so, it's always good to have examples.  Below I've noted three frugal tips that will make your gathering sparkle.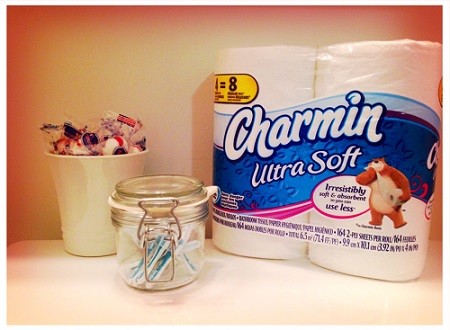 Frugal Tips 1: Bathroom Surprises
In my home, the bathroom's medicine cabinet isn't just for storing my Charmin toilet paper; I also use it to store special surprises for guests. I customize the treats, depending on the company. For formal sit down dinners, I stock the cabinet with dinner mints, individually packed toothpicks and toothbrushes, and travel size toothpaste. For a friendly, impromptu gathering, I might put a lot of marbles in the cabinet to discourage snoopers. For a family gathering with children, the options are endless: the medicine cabinet contains homemade stickers that children receive each time they clean their hands after using the bathroom.  At the end of the night, children present their stickers to win prizes! Winners receive a small prize – jacks, plastic rings, something fun that will make them feel special.
Frugal Tips 2 :Music
I've learned that everyone loves to sing. Trust me on this one, there's a reason karaoke is so popular. Whether they do so loudly, or under their breath, doesn't really matter. What does matter is whether or not they know the words. Make it easy for them by streaming music, with words, on your television. Those who want to join in can, while those who don't will laugh at the hilarity that is sure to ensue!
Frugal Tips 3: Parting Gifts
I believe in giving parting gifts. It doesn't have to be fancy, but it does have to be heartfelt. Given that I enjoy crafting in my free time, I give homemade gifts that will help them remember the evening we spent together. Below are a few suggestions.
Flash drive featuring the music played at the event
Homemade plantable seed paper tied with ribbon (This is perfect for Going Away Parties – ex. Going to college.)
Take a photo of guests as they enter, give them the framed photo at the end of the night.
Let's talk! How do you make your gatherings sparkle without breaking the bank? 
Brought to you by Charmin Ultra Soft. We all go. Why not enjoy the go?
Disclosure: Latina On a Mission is working on a sponsored Charmin campaign to develop a fresh, innovative video series. All opinions expressed herein are those of the Author.