The author received products to facilitate this review. As always, all opinions expressed herein are the author's honest opinion.
Over the past several months, Latina On a Mission has reviewed the newest Keds. Never for the dull and boring, Keds showcases the wearer's sassy and stylish side, while also providing unbelievable comfort. As the new "It" urban booties, life is an adventure with Keds!
I received two pairs of the new "It" urban sneakers by Keds, the Rookie Loop-de-Loop Suede in black and the Champion Chukka Suede in gray. Both are shown below.
The Keds Rookie Loop-de-Loop Suede hi tops are perfect for colder weather. They have a quilted suede exterior and faux shearling lining in the same color as the exterior. It comes in two colors: black and walnut gray. I picked black because it's so versatile.
Click to check out the Keds Rookie Loop-de-Loop Suede hi tops in walnut gray on Nina.
Below I paired my Rookie Loop-de-Loop Suede hi tops with a black/gray dress, gray tights, a fitted jean jacket and a bright yellow knitted scarf. The Keds totally made the outfit! They are stylish and classy with an urban twist!
This particular style can be worn up or folded down. I chose to fold it down. You can see close-ups below.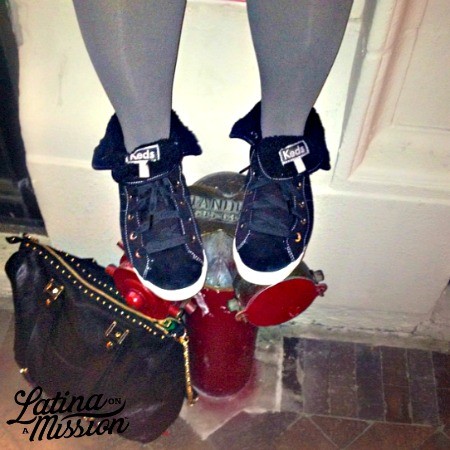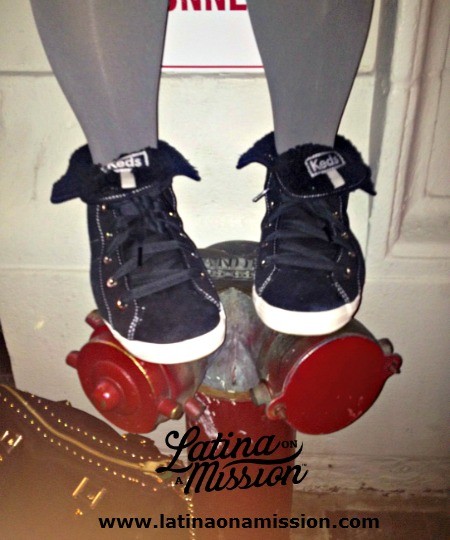 I love how comfortable my #KedsStep felt. We walked over a mile that evening but the cushioned insole made it feel as if I was walking on a foam mattress. Also, although it was pretty chilly that night my toes remained warm and toasty!
The Keds Champion Chukka Suede in gray are a mid-height lace-up style bootie. They come with two sets of laces, a light gray that matches the bootie perfectly and a mint green that matches the Keds logo. That pop of color is exactly what I needed to showcase my style. The cushioned insole also make them super comfortable for a night out in the city, while the rubber outsole means I won't slip and fall as I try to keep up with taller friends!
I'm planning on wearing my gray Keds Champion Chukka Suede booties with slim pants, a black cardigan, and a gray undershirt. I love how the mint green laces on my Keds Champion Chukka Suede booties will save the outfit, taking it from ho hum to urban chic!
Also, the Keds Champion Chukka Suede booties are slimming since they do not have any lining. This works so well with slim pants, elongating my legs and ensuring I don't appear to have  cankles!
Let's talk! How do you style booties? I would love to hear your suggestions. Also, feel free to let me how you feel about these two!