Nani, the newest Latina On a Mission contributor, could never be called dull and boring. Sassy, yes. Stylish, all the time. But, never, ever, dull and boring! That's why she was the perfect person to sample, and review, the latest Keds. Because, #KedsStep is never for the dull and boring!
Immediately after applying to become a Latina on a Mission Contributor, I was offered a review opportunity. I was psyched. After waiting for what seemed like forever (I was that excited!), I finally received my first product review package: two (2) pairs of Keds, the Black Floral (shown above on the left) and the Double-Dutch optic black and white (shown above on the right).
I love patterns! I love the boldness  of patterns and how they express my personality. That being said, the Keds I received were just the right fit, both in size and color. I knew with these two pairs of Keds would allow me to step out in style.
I was ready to #KedsStep!
I paired my floral Keds with dark jeans, a black tank top, black sweater and black scarf. Boring? I think not! My floral black and white Keds added style and just the right amount of chichi-ness to my weekday look.
Now, this may be TMI, but I'll share anyway. I have flat feet. GASP! This causes me grief when shopping for shoes. I love stylish shoes and tend to be a trendsetter – humble brag :). Yet, style can never, EVER supersede comfort. Because of my flat feet, its difficult to find shoes that fit my criteria. They can't be too narrow. Because, really, who wants to be in pain all day? Not me!
When I put on my Keds I could not have been happier with how they felt. They were super comfy and I received compliments all day! My
co-workers couldn't believe they were Keds ( I don't know why!). Later on as I walked on my college campus, one of my classmates went so far as to take one of my shoes and try it on (Yes, Mom this is what friends do at college!). She said she wanted to know specifically what size to order; I can't say I was comfortable with her just pulling my shoe off but I understood why she was doing it. My Keds are beautiful!
I am extremely happy with the Keds I received. They have just the right blend of chichi-ness and comfort.
Running to class was now done in style!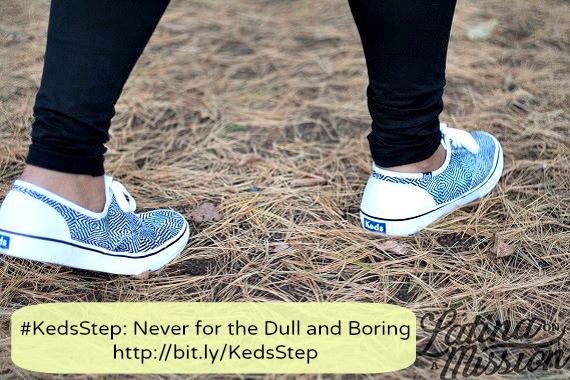 After class, I came back home and didn't feel the pressing need to change my shoes (out of pain…), the way I usually do!
The patterns on the shoes were definitely fitting for the season… That's probably why I got so many compliments!
Now what are you waiting for? You know you want to #KedsStep!
Let's talk: What's your style: neutral, bright, pattern, bold, or natural? Let us know in a comment below.

---
Click to read our latest #KedsStep Keds Sneaker Review of the Champion Dot in Navy/White polka dot, Rookie Loop-De-Loop Suede High Tops in Walnut Gray and the Champion Oxford CVO in a versatile white.