I'm excited to announce that Latina On a Mission has teamed up with the Allstate Foundation, Latina Blogger Connect, Deborah Deras, Adriana Castro, and Jeanette Kaplun to host a sponsored Twitter Party!
We'll be discussing a very important topic – Domestic Violence.
Domestic violence impacts millions, occurring more than 145 times each hour in the U.S. On average, three women die every day. Yet, people shy away from the topic. We're going to change that. We want to bring attention to an act that affects approximately one in four women – more women than breast cancer, ovarian cancer and lung cancer combined.
Sadly, the lack financial knowledge, and resources, is the number one indicator of whether a domestic violence victim will stay, leave or return to an abusive relationship. The Allstate Foundation uses Purple Purse and PurplePurse.com to get people talking about domestic violence. The website appears to be an online fashion magazine, but when the user looks more deeply, she will find a safe place with a variety of information and resources specific to the issue of domestic violence and financial empowerment.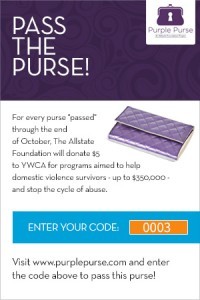 Purple Purse, now in its third year, helps people carry on conversations and pass along information about domestic violence and financial abuse by placing the power directly into people's hands with a purple purse. The purses will be passed between co-workers, friends, and family, sparking important conversations along the way.
For every purple purse passed through the end of October, The Allstate Foundation will donate $5 to YWCA – up to $350,000 for programs aimed to help domestic violence survivors and stop the cycle of abuse.
If you don't get your hands on one of the purple purses that are being passed around the country, you can still help by logging onto Facebook.com/PurplePurse and sharing a virtual purple purse. Each time a virtual purple purse is shared or re-shared, Allstate will make a $5 donation to YWCA.
Join us to enter to win a purple purse of your own (6 winners). One lucky attendee will also have the opportunity to win an Adriana Castro Purple Maya Clutch worth $635!
Below you'll find the Twitter Party information.
Unsure how to join a Twitter Party, read my Twitter Party Basics post.
Twitter Party Details
Date: Wednesday, October 9, 2013
Time: 9 to 10 p.m. EST / 6 to 7 pm, PST
Required Hashtag:  #PurplePurse
Language:  ENGLISH and SPANISH
Follow:
Prizes:
One grand prize winner: An Adriana Castro Purple Maya Clutch (RV $635)
Six winners: Allstate Foundation Purple Purses
Unsure how to join, read my Twitter Party Basics post.
To be eligible to win, you must join the Twitter Party and participate during the time specified. An original  tweet using the #PurplePurse hashtag, that answers the Giveaway questions correctly, is eligible. Winners will be announced throughout the hour!
Disclosure: The #PurplePurse Twitter Party is a sponsored campaign. Prize, and prize fulfillment, will be  provided by the Allstate Foundation. LOAM is not responsible for typos or incorrect information provided to us.