LOAM was provided with a sample product to facilitate this review.
Although my Tween started his summer vacation last week, we're already in back to school mode in my home; given that Karl, the Teen, returns to college in 2 weeks. In order to save  dinero, I've been scouring our weekly circulars and set up alerts for my favorite sites online.
Given that I spend quite a bit during the back to school season, I want to make sure my sons don't lose, or have their supplies stolen. Not surprisingly, I'm not alone – 60% of people worry about the security of their belongings while they, or their children, are at school*.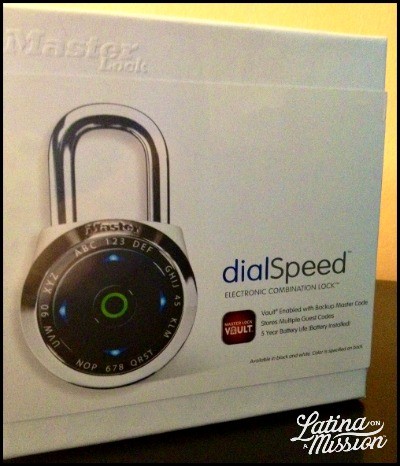 Recently, I was given the opportunity to review the Master Lock 1500eDBX dialSpeed. It was perfect for the Teen. Not only will it keep his items secure while he uses the school gym or pool, it also allows him to share the lock with others in his LIFE House, without sharing HIS personal master code!
The additional guest codes – max 3, is an option that I have never seen before on other locks.
The Master Lock 1500eDBX dialSpeed comes ready to use right out of the box. The battery lasts 5 years and is easily replaceable. The wide metal body on the lock can be opened one-handed and has a light-up keypad to make it easier to see. It also offers maximum security with anti-shim technology and boron carbide shackle for increased cut resistance.  But the coolest part, at least for me, is that it offers a unique online Backup Master Code that can be retrieved at masterlockvault.com.
As for the downsides, I only found one. The Master Lock 1500eDBX dialSpeed can only be used indoors. However, my son had no problem with this, so really it's all a matter of preference. For those who need a lock that can be used outside, you can check out Master Lock's other products and tools for students, including laptop locks, backpack locks and an online website and mobile app for storing passwords and other important documents.
Let's talk! Do you worry about the safety of your child(ren)'s school supplies? If so, have you considered a lock?
*Survey conducted by Survey Monkey from 3/12/13 – 3/14/13 among Americans representative of a National U.S. Census
---
GIVEAWAY ALERT
Master Lock is hosting an interactive online game on the Master Lock Facebook page or at www.MasterCampusChallenge.com from July 15 – September 8, 2013 where you'll have the chance to win gift cards, video games, electronics and Master Lock products.
Disclosure: LOAM was provided with a sample product and compensation for this review; however, this in no way influenced the integrity of the review. All opinions expressed herein belong solely to the writer.