Migdalia Rivera, Founder of Latina On a Mission, shares her personal Back to School Tips for Single Mothers. While LOAM was compensated for said post, the tips remain those of the author.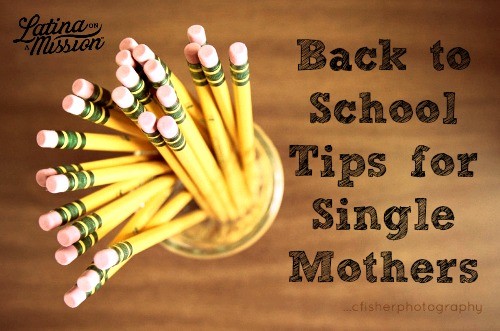 With school back in session in many parts of the country, I wanted to share my "Back to School Tips for Single Mothers". Although all parents face difficulties navigating the back to school hustle, single mothers and parents face a different type of juggle. Below I've noted my sanity-saving back to school tips for single mothers and parents.
Emergency Contacts
As a single mother, we don't have a spouse to turn to for help; as a result, it's good to have your emergency contacts lined up before school begins. I would suggest at least three (3). These individuals should be willing to go to your child's school at a moment's notice. Once you've decided who should be included as an emergency contact, make sure to contact each of the designated individuals to ensure that they are able to, and willing to, run to your child's school should something happen. It's also important to let your child know who the emergency contacts are so that he/she is not caught off guard.
Emergency Babysitter
Every single mother should have a babysitter that they can call on short notice. They are just as important as the emergency contact, if not more, especially for mothers who work outside the home or go to school.  Having more than one is even better! Personally, I have three that I can call on short notice. This way I am covered if one of the sitters cannot help me in a pinch.
Sponsor

Strayer University. You're Ready for this. Get started at strayer.edu
Same-Day Delivery Service
I can't stress how many times a same-day delivery service has saved me time and sanity! I'm sure my son is not the only kid that remembers a project, a book, or school supplies just as I'm dropping him off as school. If yours is anything like mine, it behooves you to have a few same-day delivery services on hand. Most will deliver within a few hours based on your area. These are perfect if you're on deadline at school, or work, and have no time to run around like a madwoman. Three that I use are: Amazon, Barnes & Noble, and Ebay.
Meal-Planning
Meal planning is my best friend during the school year – actually all year! By planning my meals ahead of time, I'm able to save money and time. Even better, it helps us stay healthy! Armed with a weekly meal plan, I can scour circulars and online coupon sites to get the best deal. Once purchased, I try to cook and freeze my meals on the weekends. Usually one day is enough to make a week's worth of meals if I lump meals with similar ingredients into the same week. Example: My lasagna, empanadas, shepherd's pie, meatloaf and spaghetti and meatballs all use ground turkey. Not only is it easier to cook, but buying ground turkey in bulk is cheaper.
Let's talk! What do you think of these tips? Do you have any you would like to add? Feel free to share in a comment so that we can all benefit from your wisdom!
Disclosure: This sponsored post is brought to you by Strayer University; however, all tips noted herein remain those of the author.