Yesterday was Latina On a Mission's 4th year blogoversary. It boggles my mind. When I began blogging, a Latina Blogger was a rarity.  Surprisingly, finding a Latina Blogger from New York, a state with a high concentration of Puerto Ricans and Dominicans, was even rarer in 2009.¹
Over the course of those four years, I've been fortunate enough to work with a slew of bloggers, brands and PR agencies who believed that the female Hispanic voice was vital; as a result, my blog and it's community has grown and Stiletto Media, LLC was created!
Wanting to delve into our history, I discovered that Latina On a Mission has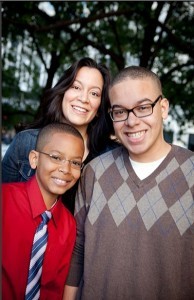 I've used this blog to record my life and sons' growth. My oldest, Karl Rivera, has grown with this blog. He has lived and breathed social media with me! He helped me with Twitter Parties, has written articles for Latina On a Mission and other sites, and has attended conferences and media events with me. He also was a Speaker at the South by Southwest (SXSW) Conference. Not surprisingly, he now works in the social media department at his college and has been approached to intern at a PR firm in New York.
My youngest, Andrew, has taken an interest in coding. He loves all aspects of it! Attending events, researching topics, and helping with videos, has also helped him come out of his shell and given him more confidence. He's an avid movie reviewer, giving me his thoughts and ideas after each flick, and loves testing and tasting all featured recetas/recipes.
All in all, this blog has provided me, and my sons,  with a ton of opportunities – many more than those named – and it wouldn't have been possible without YOU.
So, today I want to say thank you.
Thank you for following me on this journey.
¡Mil gracias! / Thank you for believing in our voice and our value!
¡Abrazos! / Hugs!
---
¹  2009 Technorati report states:
¾ of the bloggers were male
60% of the bloggers were between 18-44
The majority were more affluent and educated than the general population
◦ 75% have college degrees
◦ 40% have graduate degrees
◦ One in three has an annual household income of $75K+
◦ One in four has an annual household income of $100K+
◦ Professional/self-employed bloggers are more affluent: nearly half had an annual household income of $75,000 and one third topped $100,000
More than half of the bloggers were married
More than half of the blogger were parents
Half were employed full time outside of their blogs, however ¾ of the professional bloggers were employed full time as bloggers