Based on true-life events, Snitch starring Dwayne Johnson, has viewers asking, "To what extreme would I go to save my child?"

Click for Snitch Movie Review with spoilers.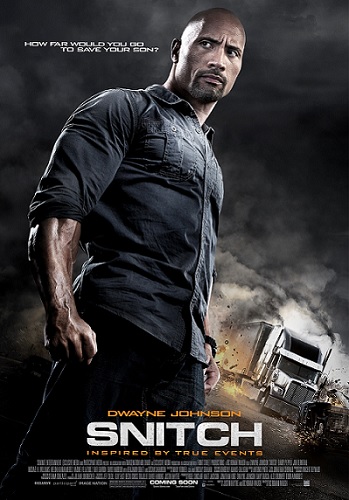 Snitch is an action packed, heart-wrenching movie.  John Matthews (played by Dwayne Johnson, who many of you know as The Rock) is a father desperately trying to save his son Jason (played by Rafi Gavron) from serving an unjust prison sentence for a drug distribution crime that carries a mandatory 10-year sentence.   As parents we worry that our children will make mistakes that carry huge consequences, This movie plays on that fear and an instant connection with the characters, their family relationship and the viewer is formed.
John offers to set up drug deals that could land a huge arrest.  If successful, this would reduce Jason's sentence.  At first, he struggles to make connections. But, before long, John is in deep, infiltrating a major drug cartel. However, his family, business and life are in serious jeopardy. John makes a decision. He decides neither side will control him or the outcome. He does.
Dwayne Johnson did a fine job in portraying a father in a desperate situation.   The performance highlights for me were by  Jon Bernthal and Rafi Gavron.  Jon played the character Daniel, who was torn between right and wrong. He was passionate. He portrayed a Latino, who was struggling and trying to be on the right path to do well by his family. With charisma and raw male charm I instantly rooted for him.   I felt connected with him.  He's the guy from my hood.  Mi barrio.  Rafi, who played the son Jason, had me completely wrapped up.  I instantly felt his terror and cried for him and the situation he was in.
With major shoot outs, car wrecks and explosions,  this movie is sure to please the action-seeking viewer.
Let's talk! What would you do if faced with the same situation? 
strong>Notable Quotes:
"You're better than them, you're better than me". ~Daniel to a young boy who's impressed with the local thugs.

"You're the one who showed me what character and integrity is all about " ~ John to his imprisoned son.
Snitch opens February 22, 2013
Cast: