I'm excited to announce that I have partnered with ConAgra Foods on an initiative called "Child Hunger Ends Here".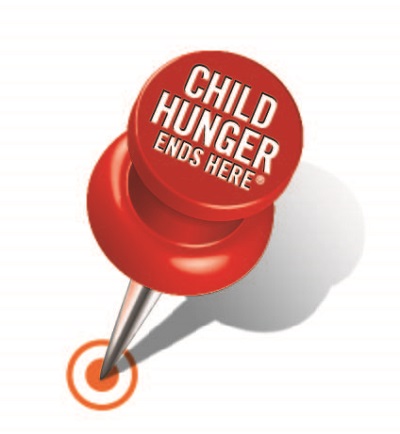 Sadly, the reality is that 1 in 5 children suffer from hunger – that's nearly
17 million children
. It's not limited to those in poverty. It has affected every demographic and nationality. Hungry children are in our schools, our neighborhoods and even right next door.
That's why we're working to build a community of people – full of amazing readers like you, along with musical artists, other moms, and kids – to spread the word that there is something we CAN all do. Together, we can reach a goal of donating up to 3 million meals to Feeding America – just by starting with a code.
You can find the code on participating packages of ConAgra Foods. Just look for ConAgra Foods products with the red pushpin in grocery stores. When you purchase those specifically marked packages and enter the code in the widget below, ConAgra Foods will donate one meal to Feeding America. Simply bookmark this page and upload your codes. It's that simple!
Join us. Share the news with your friends, family and networks that together, we can reach a goal of donating up to 3 million meals to our longstanding partner, Feeding America – just by entering a code.
¿Fácil no? / Easy, right?
Will you join me and get involved? I hope you will. No, I KNOW you will. A hungry child is depending on you.

Disclosure:  ConAgra Foods has sponsored this post. However, this does not diminish the cause. Child Hunger Ends Here is an amazing program devoted to an extremely important cause and Latina On a Mission is excited and humbled to be a part of it.