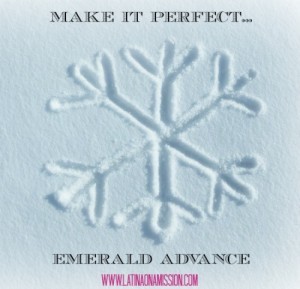 Christmas brings out the frugalista in me. Yet, even with that, it can be hard to stay within budget when shopping for familia/family, friends, teachers, the hair stylist, garage attendants, mailman, my Kris Kringle, my sons' countless friends, etc., etc. I have to admit some years are better than most. Sadly,this year is not the better thn most year because I waited till the last minute to shop. Grrrr
Thankfully, H&R Block has a program that can help. (I knew I liked them for more than timely tax returns!) The program called Emerald Advance, is a service for those years when you need some extra dinero/money. Folks may be eligible for up to $1,000 without having to jump through lots of hoops. People can apply from now until January 14, 2013.. Whether you use Emerald Advance to cover holiday gifts or travel expenses to spend time with family over the holidays, you can feel good about relying on a financial expert you can trust all year and that means more celebrating and less worrying!
If you opt for a cash advance, there are still ways you can save during the holidays, such as…
Immediate Family: Set a monetary budget for everyone.
This year my boys and I have a $50 budget for each other. We can go under but not over. Great for tweens and teens especially since I am still giving them the money to purchase those gifts!
Extended Family and Friends: Purchase Group Gifts vs. Individual Gifts
I have a big family, with 3 brothers and 3 sisters. I also have countless friends who we call Titi/Auntie, that have adopted my sons and I into their family. Most, if not all of these individuals, have 2 or more kids. Buying individual gifts is not an option for us; however, group gifts are. See below for some ideas.
Museum Memberships: This is the gift that keeps on giving! This gift will not only give the recipients countless days of family fun, it will also support a great cause. Plus, a portion of it is tax deductible!
Video Games: This is perfect for the Gamer family. There are lots of options to choose from that are great to get a family moving and having fun. Try to pick one that will work for a diverse age group. I find sports, dance amnd singing games are great for all ages.
Food Subscriptions: The boys and I received this from a friend one year and we loved it. There are many options to select from including fruits, steaks, and the three major food groups: coffee, cakes and cookies! You can even find some great subscriptions for gluten free living and diabetics that are pretty tasty.
Get a $25 Gift Certificate to The Fruit Company thru Restaurant.com for only $10! Click Here.
Get a $25 Gift Certificate to Lobster Gram thru Restaurant.com for only $10! Click Here.
Get a $25 Gift Certificate to Mrs. Fields Cookies thru Restaurant.com for only $10! Click Here.
Teachers: Since my sons are older, they have more teachers that I can count on two hands. As a result, I always give restaurant certificates from restaurant.com. They never expire and they can use them for take out, to eat out and on countless other stores within the network.
Mailmen/Garage Attendants and Other Service Workers: I want to commend the people who make my life easier; however, realistically I can not afford to give each one of them a gift unless I am creative. Several options I have used in the past are noted below. Notice the theme?
Movie Cards: I purchase AMC tickets at a discount. You can do the same via Costco, BJs, and from most insurance companies!
Fast food gift cards: You can grab a 4 pack of $10 cards at CVS (Use your ExtraBucks!). You can also purchase them at a discount from Costco, BJs or other big box store.
restaurant. com Gift Cards: Again, these are great because you can use them to dine in, take out or with any of the other stores in their network. Plus, they have a  NEW! $2 for $5 Restaurant Gift Certificates.
For YOURSELF:  I suggest a spa treatment, preferably one that does not involve the children, mate or in-laws! To entice a well deserved splurge,  H & R Block is going to give one Latina On a Mission reader a $300 gift card. No purchase necessary. Read below for details… and should you win, please use it for something special. Because, honestly, you deserve it!

¡Suerte! / Good luck!
---
MANDATORY ENTRY:
Leave a comment below naming at least one benefit of the Emerald Advance Program. To review the H& R Block Emerald Advance program benefits click HERE.
EXTRA ENTRIES AVAILABLE AFTER MANDATORY ENTRY IS COMPLETED – LEAVE A SEPARATE COMMENT FOR EACH ENTRY TO COUNT:
1. Subscribe to my blog via email or feed, and/or "Like" Latina On a Mission's Facebook page for one (1) entry EACH. If you already do, let me know in a comment!
2. Follow @MsLatina on Twitter and tweet about the giveaway, stating the below. Provide me with the tweet URL in a comment. One tweet per day till the giveaway ends, so go ahead tweet away!
Enter to win a $300 @HRBlockAnswers Gift Card & learn about their Emerald Advance Program
http://bit.ly/HnRgw
#SMlatinas #Giveaway
3. Leave a comment on ANY other post, dated December 1, 2012 or later, for TWO (2) extra entries. Let me know you did so in the comments below.
4. Share this post, or another, on your blog,  Google+, Pinterest, Stumble Upon, Technorati, Digg, and/or Facebook. Each post shared gives you 1 extra entry. Just let me know which post you shared and your username, if applicable!
********************
Giveaway ends December 31, 2012 at 11:59 A.M. EST
Open to US residents only
********************
Void where prohibited. Must be 18 years or older to participate. No purchase necessary to win.  Winner will be randomly selected and notified via email. Winner has three (3) days to respond before another winner is selected. Entries/Comments must follow the submission guidelines noted above to qualify. Prize is non-transferable. 
Disclosure: The prize was provided by H&R Block and may be shipped to the winner by H&R Block, but H&R Block is not a sponsor, administrator, or involved in any other way with this giveaway. All opinions expressed in the post are my own and not those of H&R Block. Entrants must be 18 or older and located in the US only. Winner to be chosen at random.