This is what I would say if I were involved with SA (Shoe-holics Anonymous).
I'm an addict. My head swoons at the thought of shoes. Scouring display windows, magazines and online stores, fills me with glee. Images of boxes lined in neat rows, call out to me. Stilettos, kitten heels, flats, whisper "Wear me". Their new shoe smells beckon me, while sales scream "BUY ME".
The rise of my legs, sway of my hips, as I sashay in my new 5 inch tips, can only be brought on with a new pair of shoes.
I am a shoe addict.
They need not be name brand. Yet, comfort can't be ignored. Pointy heels, round toed or squared, it doesn't really matter, as long as they get stares.
I want more for less. I want them to be the best. I need a wide selection. Blue, silver, pink, maroon, they all make me swoon.
I am a shoe addict.
Rhinestones, glitter, studs, reflect different sides of me.  As I slip on those soles, you'll see another side of me. Demur house-mom, sexy siren, or cowboy vixen, scream "Sleep well. Come hither. Heehaw!"
I am a shoe addict.
Those soles allow my soul to grow, to expand, in more ways than I can express. I want more for less. I want to transform like the seasons. I want to purchase shoes without the guilt.
I am a shoe addict.
Yet, this does not mean that I can't have it all. I know what I want and I will get it for less because when I Payless that does not mean I get less.
It simply states, " I can purchase shoes without the guilt."
I am a shoe addict, with high price tastes, on a low cost budget. I Payless but don't get less.  Why?  Because I am a Mamá on a Mission who refuses to settle for less.
¿Y tu? / And you? Share your stories on how you Payless, but never get less, in a comment below!
Shown below is my latest find, the Payless Brash Women's Pixie Western Boot.
I ♥ them!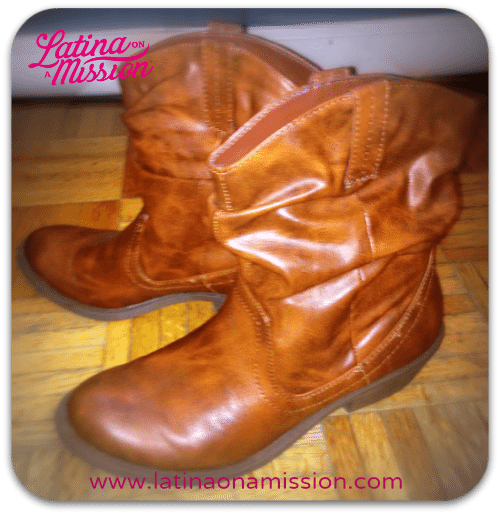 Disclosure: I was given products for review; however, this in no way influenced my opinions. My addiction, and love of shoes, are all my own.  I strut proudly!